Picture Of The Day for February 25, 2010
Battle Of The "Undefeateds"
We're just a little over a week away from WSU's March 6th 3rd Anniversary event...an event that will feature a battle between two ladies who are undefeated in WSU action. On the left, G.L.O.R.Y. Girl Amber O'Neal (who has won all five of her WSU matches) is scheduled to step into the ring against former WWE Superstar Jazz (1-0 in WSU action). The match is sure to be a rough, mean and nasty affair as both of these ladies have proven in the past that they are willing to do whatever it takes to win.
In previous WSU action, Amber not only defeated fellow G.L.O.R.Y. Girl Sumie Sakai...she tried to separate the Japanese star's head from her neck using the lower ring rope and her left boot! [Picture #2] In Jazz's previous WSU appearance, she tried to plaster Angel Orsini into the mat with a crunching leg drop across the throat. [ #3]
No doubt in our mind that this match will be a highlight of the evening. Well...for one of these great wrestlers, anyway!
Photo:
Ed Darcey
Bonus POD!
Picture #2
Bonus POD!
Photo:
Ed Darcey
Bonus POD!
Picture #3
Bonus POD!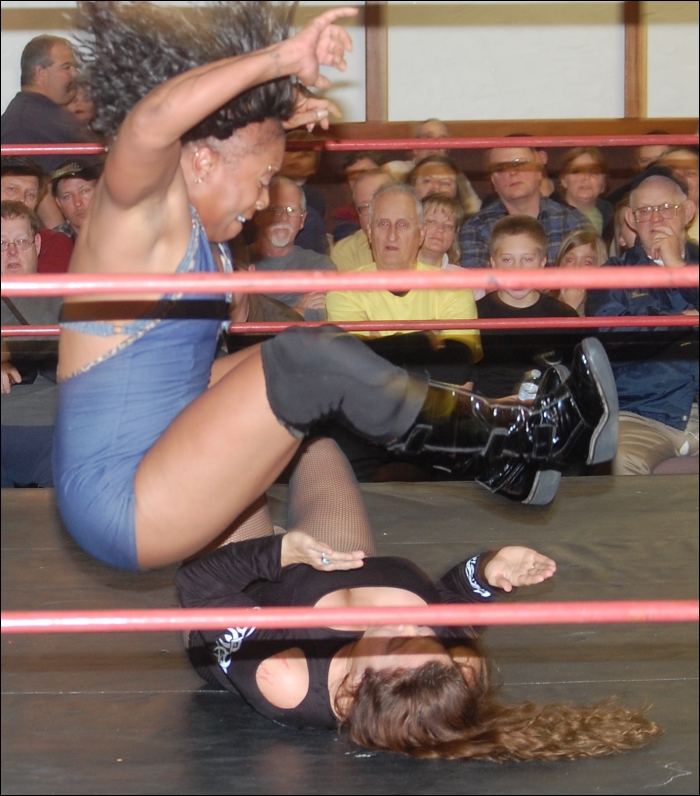 Photo:
Ed Darcey