Picture Of The Day for September 25, 2010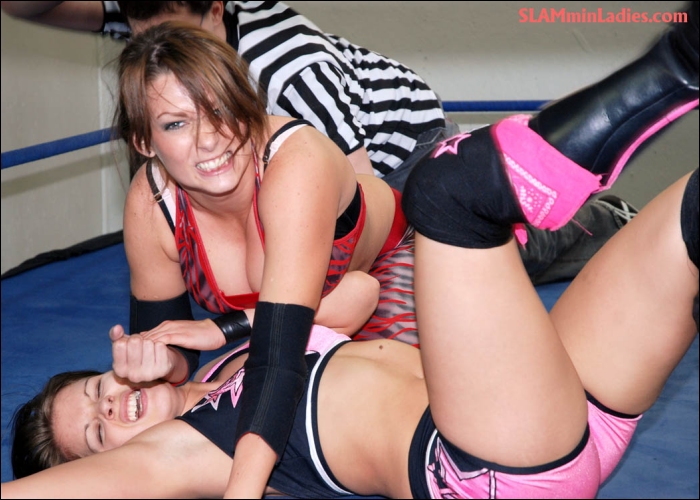 SLAMmin' The Pain!
Over the last couple of days, we've seen the women of SLAMmin' Ladies using various technical holds and maneuvers to gain the advantage over their opponents on the way to a pinfall. But there are plenty of times when the technical stuff gets thrown out the window and the ladies are intent on delivering punishment to their opponents because...well...they simply want to bring some pain to the SL ring! Above, Rain abandons a cross body pin over fellow G.L.O.R.Y. Girl Portia Perez in favor of grinding a forearm across the face of her suffering victim. Apparently, the brunette doesn't care about winning...she cares about hearing Portia's screams of agony. Below, Mercedes Martinez isn't satisfied with just squeezing the fight out of Jennifer Blake using a tight body scissors. She adds to her enemy's torment by repeatedly slamming that right fist into the trapped blonde's wide open ribs and midsection. OUCH!
More pictures from these matches? How about FREE video previews of the SLAMmin' action? Use the links below to see both!
Photo:
SLAMminLadies.com
Bonus POD!
Picture #2
Bonus POD!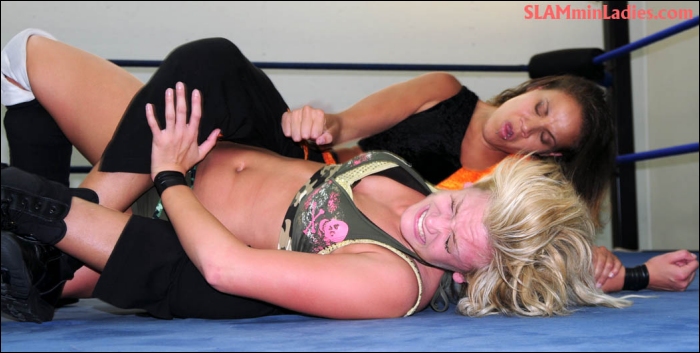 Photo:
SLAMminLadies.com