Picture Of The Day for March 12, 2011
The Rate Tank: FRAUD!
That's right...we're calling Australian G.L.O.R.Y. Girl Kellie Skater a fraud. A FRAUD! And today's pictures snapped by Wrestlin' Wally at last September's SHIMMER event are a perfect example of why we make that statement.
You see, "The Rate Tank" loves to come to the ring with an energy drink in her hand. She also has a pair of workout weights with her at all times. (Well, if you can call them weights...they look like they weigh less than a pound or two at most!) Then she does a set of pushups in the center of the ring before the bell rings. All of this is done to prove to the fans that she's in tip-top shape. Watching her nutrition. Working out hard to advance her ring career.
FRAUD! That's what we say!
Because good nutrition, working out and being in peak condition have nothing to do with Ms. Skater's strategy once the match starts! Take a look at the tactics she used against SHIMMER opponent Jamilia Craft. She slammed punches to the back of her skull. Sent fists to the masked wrestler's chin. Even viciously nailed her with a big boot to the side of the head. What the heck does being in shape, eating well and doing callisthenics have to do with these cheating tactics???
It doesn't matter what kind of a pre-match display Kellie "The Rate Tank" Skater puts on for the fans. The way we see it, this Aussie rule breaker is nothing but a fraud!
Photo:
Wrestlin' Wally
Bonus POD!
Picture #2
Bonus POD!
Photo:
Wrestlin' Wally
Bonus POD!
Picture #3
Bonus POD!
Photo:
Werstlin' Wally
Bonus POD!
Picture #4
Bonus POD!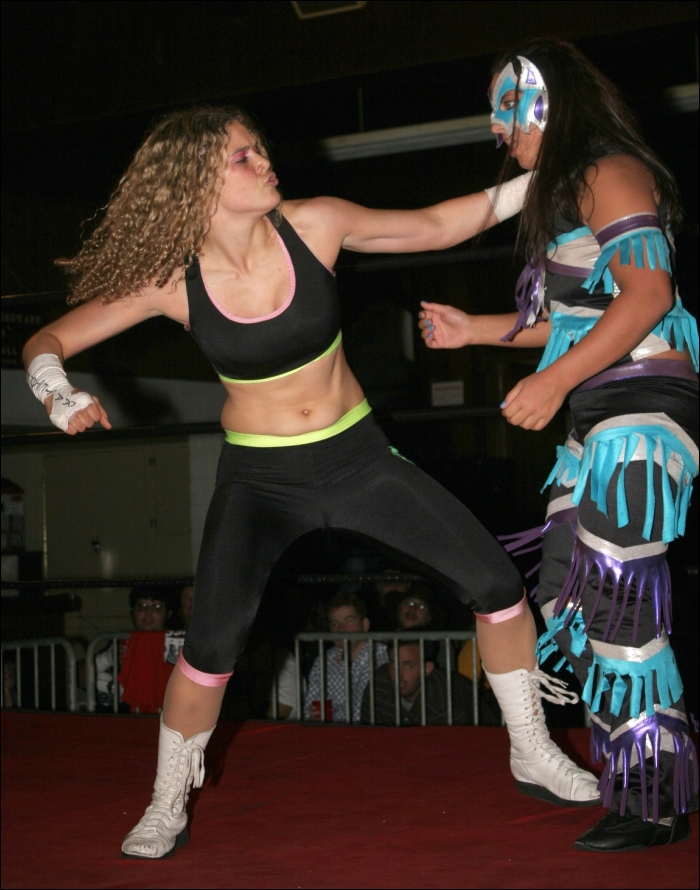 Photo:
Wrestlin' Wally
Bonus POD!
Picture #5
Bonus POD!
Photo:
Wrestlin' Wally