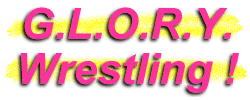 Amy Vitale
Manager
Whether she's at ringside or in front of the lens of a top fashion photographer, Amy Vitale is always the center of attention. With over ten years of experience in professional wrestling, this blonde beauty certainly knows the ins-and-outs of the business. And during those times when this Florida-based manager is not entertaining the crowds at the arena, she can be seen in fitness magazines, fashion catalogs and even music videos. Don't miss the chance to see the beautiful Amy Vitale...wherever she might be!
Amy Vitale!
Amy on a recent photo shoot.
Ms. Vitale with some of her Mafioso wrestling associates.
Definitely sexy!
Amy has been the subject of many fashion photographer's cameras.
Amy Vitale's Stats...
Height:

5' 6"

Weight:

118

Hair:

Blonde

Eyes:

Brown

Hometown:

Boca Raton, Florida (USA)
Amy Vitale's Profile...
How It Started:

I was a huge wrestling fan when I was a little girl. When my grandfather introduced wrestling to me, I was instantly hooked. I grew up watching people like Hulk Hogan and Ric Flair. Whatever federation it was, I would watch...WWF, WCW, ECW. I also saw the beautiful women that were involved such as Miss Elizabeth, Missy Hyatt and Woman. I remember when I was a little girl, I wanted to be just like these beautiful women...wearing sexy clothes, hair and make-up, and being in the limelight. Basically, just like a Barbie doll! I remember going to a live wrestling show was like none other. Just being there live and in person, watching the set-up, watching the interaction with fans, it was just amazing to me. The wrestling business is something I wanted to do, and I was going to work hard in making that dream come true. I started writing for wrestling newsletters when I was a teenager and even had one of my own for a while. I was on wrestling hotlines giving news and my opinions on the wrestling world. By the time I was a senior in high school, I managed my high school's wrestling team. I would always attend the local indy shows and show my support, studying everything that went into making the show and getting to know the workers, crew and promoters. By the time I was 18, I started working shows for a promotion called Sunshine Wrestling Federation. Later, I worked for such promotions such as Florida Championship Wrestling, NWA-New York and Future Of Wrestling.

Gimmick:

I play the Italian princess of wrestling. A spoiled Mafioso brought up in one of the wealthiest cities of South Florida...Boca Raton. My character doesn't have much fear of anything, which sometimes can get her in trouble...lol. In Pro Wrestling Riot, I play the rich snob from South Beach who likes to go out to socialize and mingle. Think Paris Hilton.

Outfit/Costume:

Anything from pant outfits to skirts to dresses. Sexy, but classy. Picture a young Victoria Gotti with the furs (fake, of course, being the animal lover that I am!), jewelry and diamonds! For Pro Wrestling Riot, I wear sexy but classy club wear like cocktail dresses and short skirt outfits.

Manager Of:

The Heartbreak Express; Francisco Ciatso; Club 305; Demon Torro; Craig Classic; Thomas Marr; Nooie Lee; Axis.

Have Managed:

Jerry Lynn; Alex Porteau; New Jack.

Biggest Allies:

Anybody who sees it my way and ONLY my way!

Most-Hated Enemies:

Anybody who gets in my way.

Career Highlight:

Making it into Wrestling World Magazine on a few occasions, as well as Fighting Females Magazine; being named as the #2 manager/valet in Florida wrestling in 1998; Lords Of The Ring; The Wrestling Hotseat.

Favorite Wrestlers:

Ted DiBiase.

Wrestling Ambition:

I would like to become well-known on the independent circuit and to work for FIP, ROH and TNA.
Amy Vitale's Personal Notes...
Along with wrestling, I am also a fitness model.....I have done work for some local clothing company catalogs and have been in local music artists' music videos. I have also been in magazines such as Mac Directory and have many shoots (and counting) under my belt.....I love to hang-out with my family, friends and pets.....I enjoy working out, yoga, pilates and Tai Chi!.....If I have the time, I try to catch a movie or maybe even watch a little TV. No matter how busy I am, I always try to stay on top of what's going on in the world with the news...but I also love to watch comedy and horror movies......I like to listen to all types of music but my most love is saved for Hair Bands. A few of my favorites are Van Halen, Motley Crue, Nickelback, Three Days Grace and Gwen Stefani.....I have three cats and a dog.....My favorite color is red.....My favorite food is sushi!.....I am Italian and my heritage is very important to me.....I grew up in a family where both of my aunts were models. One aunt was a swimsuit model. The other was the 1985 Playboy Playmate Of The Year.....I love to laugh, but most of all, I love to put smiles on peoples' faces. Even if it means poking fun at myself.....I can hang with either the boys or the girls. I pretty much get along with everybody.....I love being in the spotlight. My sign is Gemini so the wrestling and modeling satisfies my split personality. :) I can play either part. If it's fun and unique, I'm there...and I can make love to the camera. I'm not shy at all. And, if the fans enjoy my performance, whether I play a face or a heel, that's what makes working that show even more worth-while.
Latest Amy Vitale News...
Come see me making a special guest appearance along with Playboy Playmate centerfold Cassandra Lynn at the Playboy Bash @ The Refuge from 9pm-2am at 2196 S.E. Ocean Blvd., Stuart, Florida on Thursday, June 5th.
Essential Amy Vitale Links...
Amy Vitale Video