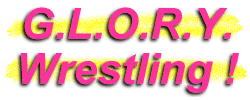 Brandi Richardson
Manager
She may be self-absorbed and ditzy...but she's very definitely SEXY! That's Brandi Richardson--one of the hottest and fasted-rising managers in the business today. Detractors have called this gorgeous lady a "self-centered vixen" who will do anything to get her hands on championship gold. Brandi says she's simply "very goal-oriented". Meanwhile, male fans sitting near ringside are content with just watching her manage! But don't let Brandi's petite appearance fool you...she's not one to back down from a fight if an opponent gets in her way. Brandi, no longer content to simply watch others do the dirty work, has recently begun training to wrestle. Brandi Richardson is on the fast lane to success in the wrestling business!
The beautiful Brandi Richardson!
Brandi attacks and enemy along the ring ropes.
Lots of attitude as Brandi stands in her corner before a recent match.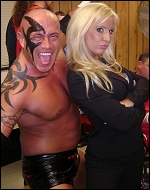 Ms. Richardson has been a finalist in numerous bikini and beauty contests.
On their way to the ring, Ms. Richardson poses with one of her men.
Brandi Richardson's Stats...
Height:

5' 4"

Weight:

118

Hair:

Blonde

Eyes:

Brown

Hometown:

Tampa, Florida (USA)
Brandi Richardson's Profile...
How It Started:

I had always watched wrestling growing up and wanted to be Miss Elizabeth. I thought she was so beautiful and graceful. Every Saturday morning I glued myself to the television so that I could watch wrestling and begged my grandmother to buy every PPV for me! Later on I expressed my interest to a local promoter who ran shows in a neighboring town. He agreed to let me come to his shows and manage a couple of wrestlers. I made contacts here and there until I was getting bookings with several promotions. It just kind of went from there. I've focused a lot on my education for the last few years and I also had a back injury that prevented me from actually training to wrestle. Now that I am almost finished with my education and have taken care of my injury, I have started training. Hopefully you will see me in the ring very soon!

Gimmick:

A very "type-A" persona...rather "Hollywood Blonde"-esque.

Outfit/Costume:

Whatever I see that I like, really. It depends on who I am managing or what I am doing on that particular show. I have my gangsta attire for the "Blonde Mafia" and I have my business attire when it is time to pull the lawyer card at UWC. Really, just whatever I see that I think is cool and will look good.

Manager Of:

Amber O'Neal in the Blonde Mafia; Legal Counsel for Commissioner Colt; Otto Schwanz in GOUGE.

Have Managed:

There have been so many great people! Some familiar names that I have managed would be Shannon Moore (in SCW) and New Jack. I am fortunate to have been able to work with a lot of great talent since I have been involved in wrestling. I will try to list them, but I hope I don't leave anyone out! William Wealth, Ric Converse, Garry Stevens, Shawn Alexander, Brad Hunter, Amber O'Neal, Persephone, Otto Schwanz, Gotti and Caleb Konley.

Biggest Allies:

Amber O'Neal; Krissy Vaine; Otto Schwanz; Cham Pain.

Most-Hated Enemies:

Kristin Flake; Persephone.

Career Highlight:

Anytime the crowd is into it and making a lot of noise, it gives you a great feeling. There was an SCW event a long time ago where Shannon Moore and William Wealth wrestled Shane Helms and a partner. The place we worked was PACKED and the crowd was HOT. I remember being so excited that night because I had never felt the energy like that before. It was awesome. Another highlight, I guess you could say, was working the Kirby Mack Benefit show with CWA. I had been out of the business for a while because of school. I was so nervous about coming back... but everyone was so amazing that it caused the wrestling bug to get to me again and get me back into it...and I have been at it again ever since.

Favorite Wrestlers:

Professionally I like Shawn Michaels, Rob Van Dam, Rey Mysterio, Trish Stratus, Gail Kim, Mickie James, Talia Madison...and big props to all the Carolina Boys: The Hardys, Shannon Moore and Gregory Helms! In the indies, my favorites are Kimo, Cham Pain, Otto Schwanz, Kirby & T.J. Mack and Shantelle Taylor

Wrestling Ambition:

To go all the way, of course!
Brandi Richardson's Personal Notes...
I am a full-time law student and will graduate law school in May 2008.....In my spare time I like going to the gym, going out with friends, shopping, traveling, and reading.....I also LOVE going to museums and historic sites and I enjoy participating in church and charity events.....I completed my first 10K this year and was so excited about that!.....I have a big family that is just AMAZING and I really love spending time with them.....I have the best friends in the world and love being with them as well.....I occasionally participate on the swimsuit pageant circuit and still do a little bit of modeling...but nowhere near as much as I used to.....My favorite hobby would have to be...napping! HA! Nothing is better than a nice long nap! I just never have enough time for them!.....And finally I am really big on music. I like all kinds of music, but rock is my absolute favorite. I am the biggest Poison fan in the world! Haha!
Latest Brandi Richardson News...
My schedule is filling up pretty quickly for the Spring, and I am very excited about that! The biggest news, I guess, is that I am finally gearing up to step in the ring for myself. I am not sure when I am going to be able to do that as I have just started training, but I am going to work very, very hard and give it 100%. So, hopefully, it won't be too long!
Essential Brandi Richardson Links...