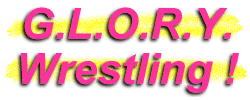 Brittany Diamond
Manager
Managing in the North Carolina and Tennessee area, Brittany Diamond has been hard at work trying to bring her men, Chance Gibson and the Southern Express, to the top of TCW. Brittany now also has her sight set on conquering WASP...Wrestling All Star Promotions in North Carolina...where she manages The Southern Express and Jamie Gibson. While she handles most wrestling matters from ringside, Brittany is not afraid to jump through the ropes to help her men when the situation calls for it. In fact, Ms. Diamond has been doing a lot more wrestling lately after deciding to compete within the ring posts!
North Carolina and Tennessee area manager: Brittany Diamond.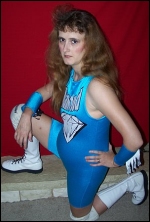 Brittany has her eyes set on competing more in the ring.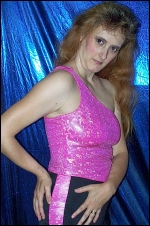 Pretty in pink!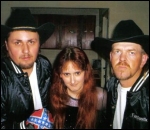 Brittany Diamond with her men, The Southern Express.
Brittany Diamond's Stats...
Height:

5' 4"

Weight:

130

Hair:

Ash brown

Eyes:

Brown

Hometown:

Nashville, Tennessee (USA)
Brittany Diamond's Profile...
How It Started:

I started going to wrestling shows and got to be friends with one of the lady wrestlers there. I had always loved wrestling growing up. I took one look at Ricky Morton and was hooked! I decided I wanted to be like Baby Doll.

Gimmick:

I will do anything to help my guys win...including sacrificing myself if I have to. I don't back down from challenges no matter who they are from.

Outfit/Costume:

I wear a lot of different things...but usually leather or an evening gown. Looks like I am going to be wearing some rebel flag and cowgirl things as well.

Manager Of:

Chance "P.S." Gibson; Brady Hawks & Tommy Fantastic (The Southern Express).

Have Managed:

Kid Kash; Buddy Landel; Tommy Ace.

Biggest Allies:

Jamie Gibson; Brady Hawks; Tommy Fantastic; Chance Gibson; Rick Karloff.

Most-Hated Enemies:

Probably Rebecca Lynn...we can only get along so long before our egos clash; D.P. Holliday...the former member of the Diamond Mine has it in for me.

Career Highlight:

I was TCW's Manager Of The Year in 2001. I was APW's Women Champion at one time and also named the First Lady Of APW. I guess one of my most memorable matches was a Mud Match with Lady Outlaw. I also had an evening gown match that I'll never forget. I competed in TCW and WASP's first-ever Women's Hardcore Matches. I lost in TCW, but won in WASP. Those matches definitely made me have respect for hardcore.

Favorite Wrestlers:

Matt Hardy; Shawn Micheals; Gregory Helms; Colt Cabanna; Andy Douglas; Chase Stevens; Ricky Morton; Charlie Hoss; Kid Kash; Matt Sydal; Steve Corino.

Wrestling Ambition:

Someday before I retire I would like to Team with Ricky Morton, since he was the reason I became interested in wrestling.
Brittany Diamond's Personal Notes...
I am an animal lover.....I like to bowl and swim.....I love kids.....I have a mini-collie named Runt and a Pomeranian named Koko.....My favorite color is purple.....I'm a big fan of country music.....I can't stand to be lied to.....I'm a good listener if people have problems.....I like Chinese food and Mexican food.....I enjoy making scrapbooks and am doing one on all the wrestlers I have met!
Essential Brittany Diamond Links...
Brittany Diamond's Upcoming Appearances...
February 25, 2012:

(AIWF EWC) Johnson City, TN