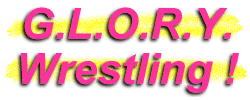 Chrissy Rivera
Manager
How can someone so small get into such BIG TROUBLE? We don't know, but 4' 11" Chrissy Rivera always seems to find a way. Maybe it's her cocky attitude. Perhaps it's her mouth. More than likely...it's both! But one thing you have to say about this firecracker manager: she's not afraid to step into the ring and get involved in the action. Unfortunately, that action usually involves guys that are nearly two feet taller and close to triple her size. Watch for little Chrissy Rivera at an arena near you...if she survives!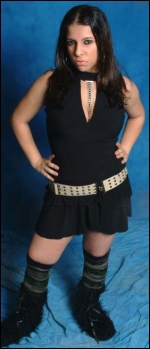 Chrissy Rivera: 4' 11" of trouble!
She may be small, but Chrissy has attitude to spare.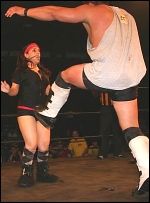 Sometimes little Chrissy finds herself in BIG trouble!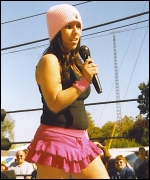 Chrissy on the mic...and probably talking herself into some more trouble.
Chrissy Rivera's Stats...
Height:

4' 11"

Weight:

110

Hair:

Black with blonde highlights.

Eyes:

Dark Brown

Hometown:

Staten Island, New York (USA)
Chrissy Rivera's Profile...
How It Started:

When I was younger I had watched wrestling on and off, but my older brother LOVED it. A couple years back I really got back into it again. My best friend asked me to go to an indy show in South Philly and I fell in love! I became friends with the promotor, found a school, and the rest is history!

Gimmick:

I am the newest member of the wrestling faction called the BLK OUT, joining with them in November of 2006. Whether I am a good or bad girl when I am with them, I do whatever it takes to win. Even if it means going through a table every now and then!

Outfit/Costume:

Black and red BLKOUT set, red bandana, knee high socks and black fuzzy boots. :0)

Manager Of:

Ruckus; Sabian; Joker; Robbie Merino; Eddie Kingston; Ricky Reyes; Dragonfly; Shaka; Bad Boy.

Have Managed:

CJ O' Doyle; Niles Young; Danny Demanto; Glenn Osborne; Eric Cooper; Bad Boy; Big Louie Q; Mike Thorn; DJ Hyde; Patch; Kris Krude; Greg Spitz; Dark Karnaval.

Biggest Allies:

BLK OUT; Jon Dahmer; CJ O Doyle; Shannon Hunter.

Most-Hated Enemies:

The other BlkOUT; Human Tornado; Triple N Bazooka Joe; Gemini Trojans; and whoever else tries to get in my way!

Career Highlight:

Working UWA Hardcore in Canada was my absolute favorite show. It was a totally different crowd. There were soooo many people there and it was an overall AMAZING experience.

Favorite Wrestlers:

Lanny Poffo is my #1; Dusty Rhodes; Stone Cold Steve Austin; Woman; Kenta Kobashi; Tully Blanchard.

Wrestling Ambition:

I believe everything happens for a reason. I am going to continue to work hard and see what happens down the road. I hope to stick around for a long time but if it were all to end tomorrow, I'd be happy with the things I have done.
Chrissy Rivera's Personal Notes...
I am currently a full time college student majoring in criminal investigations. I want to work in animal crime one day.....I also have a full time job.....I LOVE shopping in New York City and Long Beach Island in New Jersey is my getaway spot.....I also love going to the gym (both wrestling and non wrestling).....I have two cats, Cali and Holli, who think they are dogs! I also have a turtle nameed Rocky.....I am addicted to WWE 24-7, text messaging and Jamba Juice!
Essential Chrissy Rivera Links...
Chrissy Rivera Video