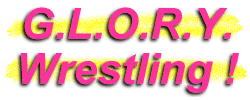 Dangerous Heart
Manager
Dangerous Heart is a Tennessee beauty who knows what she wants and will persist until she gets it. Upon her entrance into the wrestling business, this brunette manager did anything and everything to get her way...including stepping on the emotions of the fans. But it didn't take long for Dangerous Heart to see the error of her ways and change her attitude. She's still tough and dangerous...but with the fans behind her, this lady is finding much greater success in and out of the ring. Dangerous Heart: stealing the hearts of fans throughout the South!
Dangerous Heart...appropriately dressed in a sexy, yet classy, red outfit.
The Tennessee country gal in a bit of a teasing mood...
Dangerous Heart with her main man, 'The Machine' Keith Kruise.
Dangerous Heart in a more casual atmosphere away from the fans and the wrestling ring.
It's easy to see why this sexy young lady is such a hit with the fans!
Dangerous Heart: one of the cutest little country girls you'll ever meet!
Dangerous Heart's Stats...
Height:

5' 6"

Weight:

105

Hair:

Brown

Eyes:

Brown

Hometown:

Oneida, TN (USA)
Dangerous Heart's Profile...
How It Started:

Well, I've ALWAYS been a big fan of wrestling. My grandpa started taking me to matches when I was three years old and my father and mother would take me to shows any time that they were being held near my hometown...so I grew up watching it. My father then started his own wrestling organization back in August of 2001, and I couldn't pass up the opportunity to get involved! In the beginning my father didn't want me to get into it, but I kept persisting and wouldn't leave him alone. I finally wore him down...and here I am!

Gimmick:

SWA's number one bad girl. I will do anything and everything to help my guy get the win. I'm not above pulling dirty tricks, and I get really moody when I'm without gold. The more gold the better!

Outfit/Costume:

Nothing in particular...but whatever I wear is always sexy, yet classy.

Manager Of:

United States Champion: The Omen.

Have Managed:

GeeStar; Stan "The Man"; The Diamond Studd; Jack Diamond; Rick Steiner; Chris Harris; Ron Killings; Eric Adamz; Dillinger; Gabe Casteel; Doink The Clown; CJ Summers; The Orphan; Jason Scott; Joe Cannon.

Biggest Allies:

The Omen.

Most-Hated Enemies:

Amber Holly. We have never seen eye to eye, and probably never will. She and I had a confrontation and I won't ever forget that. Also, Jack Diamond left me standing at ringside once. He abandoned and humiliated me in front of an arena full of people

and

everyone watching at home! He will pay for that. GUARANTEED!

Career Highlight:

My debut was history-making in the SWA. No one ever dreamed I would be entering the wrestling world, and they certainly didn't expect me to join The Diamond Foundation. I came out in a hooded cloak, and revealed to my dad (on his birthday) that I was the newest member of TDF. Everyone in the arena was in pure shock. All anyone could hear were gasps at the mere sight of the hood coming off...and then realizing just where I stood at the time. Also, I would have to say that managing the SWA Heavyweight Champion, Stan "The Man", was a pretty big highlight.

Favorite Wrestlers:

The Rock; Shawn Michaels; Chris Benoit; Triple-H; Bradshaw and Molly Holly. These wrestlers are talented, technical, determined people that are impressive and deserve everything that they have accomplished.

Wrestling Ambition:

My ambition would have to be to improve my performances from show to show. I always try to learn and correct my mistakes, because I want to do the very best job that I know I'm capable of doing. On another note, it is everyone's dream to make it to the big time. If that happens for me, then that's great. But if it doesn't, I know I still have a place to go and do what I love to do. It's not about the money, but the pure joy in fulfilling my purpose and doing what I enjoy and love.
Dangerous Heart's Personal Notes...
Let's see. I was born and raised in a small town and I've lived here all of my life. It's really a pretty nice place to live. Nothing much happens here, but hey: isn't there enough going on in the world today?.....Moving right along, I'm a down-to-earth type of person and I love meeting and making new friends. Most people say that I'm easy to talk to and get along with.....In my spare time I do a little modeling for a local photography business.....My favorite types of movies would have to be horror and thrillers.....I enjoy hanging out with my friends and spending time with my family.....Some of my favorite TV shows include: Dawson's Creek, any of the wrestling shows that are on, and The Drew Carey Show.....As for music, I listen to a little bit of everything. A few of my favorite bands/artists are Linkin Park, Eminem, Creed, Avril Lavigne, Cold, and Pink.....One of my favorite foods are strawberries. They are so YUMMY!.....Also, I love reading mysteries. I find them very entertaining!.....My favorite colors are UT orange and blue.....I'm a big fan of college and pro football and I like to watch as many games as I can on TV. I am a HUGE UT Vols fan! In pro football, I love the Titans, Colts, Green Bay Packers and Oakland Raiders.....Other than that, I'm a pretty simple plain Jane. lol.....If anyone would like to e-mail me to chat, make a comment or ask a question, my e-mail address is: Dangerous_Heart@msn.com.
Essential Dangerous Heart Links...
Dangerous Heart Video