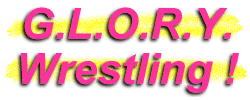 Demonica Samsara
Manager
She has dark, piercing eyes...spider web gloves...a sheer cape...spiked collar. And then there's her allies. A guy with a red beard and satanic symbols scrawled on his face. Another that looks like Bela Lugosi. It can only be one person: Transylvania, Pennsylvania's Demonica Samsara with her Powers of Darkness! This unusual manager has wrestling fans buzzing with her--ummm, let's say unique--appearance and managerial style. Watch out for the darkness...watch out for Demonica Samsara at a ring near you!
Demonica Samsara!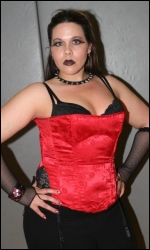 Demonica is ready for action.
Demonica and
The Powers of Darkness
.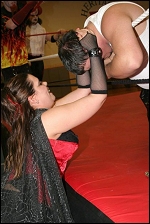 The evil Demonica interjects herself into a tag team match.
Samsara discusses strategy with her man before his match.
Demonica Samsara's Stats...
Height:

5' 6"

Hair:

Various colors to match my outfits.

Eyes:

Amethyst

Hometown:

Transylvania, Pennsylvania (USA)
Demonica Samsara's Profile...
How It Started:

I watched wrestling with my daddy when I was a little girl. This led to my girlfriends and I buying every WCW pay-per-view as a teen! I met someone very special in my life and he introduced me to the indy scene in 1998 and we have been fans of local federations ever since...enjoing our hobby and going to shows together. As I watched on as a fan, I knew I wanted to be in the ring, not the seats. I finally thought it could be possible so I talked to a couple of promoters in our area, started training, and the rest is history...

Gimmick:

A brawling

Queen of Darkness.

Outfit/Costume:

My hair always matches my gear: an evil top (usually a corset) net or spider web gloves, maybe a spiked collar, matching nails with art, black pants, sometimes a boa, sometimes a spider web cape...and always black wrestling boots.

Manager Of:

Big Lenny, The Enigma & Count Lestat. We are

The Powers of Darkness.

Biggest Allies:

I have no allies in this world. Just

The Powers of Darkness

and I, who operate together.

Most-Hated Enemies:

Anyone who gets into my way!

Career Highlight:

When the formation of

The Powers of Darkness

unfolded and we took DCW by surprise!

Favorite Wrestlers:

Hulk Hogan; Goldberg; Sting; Kevin Nash; Beth Phoenix; Kato; Rick Flair; The Best Around; Fabulous Moolah; Shiek; Mae Young; Brock Singleton; Chyna; Sensational Sherri; The Great Kali; The Rock; Rikishi; Chris Jerricho; Triple H; Mick Foley; Hacksaw Jim Duggan; Lita.

Wrestling Ambition:

I love entertaining fans on the indy circuit! This is a hobby of mine and I plan to continue with my training so that I can manage more and maybe wrestle. I hope to continue with this and keep having FUN!
Demonica Samsara's Personal Notes...
Some things about me: I have the most gorgeous Afghan Hound named Kali, the best soul mate in the world, a cute bunny named Baxter and an awesome supportive family (Hi Mom! Love you! RIP Daddy).....I work with children ages 4-21 at a school for special needs children. They are great kids and I have an amazing job as an Occupational Therapist.....I graduated from IUP in the spring of 2008 with a degree of General Studies, Holistic Health and a minor in Religious Studies.....I am an alumnus of PSU and am starting my Master's Degree in Public Health in the fall of 2008.....I have many interests outside of the ring. I do love to work out when I can and I LOVE Yoga, which I teach at a local studio.....I love warm sunny days and to be with my pup and my man!
Essential Demonica Samsara Links...