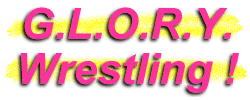 Jaci Johnson
Manager
Sexy Jaci Johnson knew one thing about the wrestling business from a very young age: she wanted the gold! From the time she watched matches with her father down in Texas while still a child, Jaci knew she wanted to be involved in the sport. Now, the beautiful brunette manager does all she can--regardless of the rules--to get her hands on any championship gold that's available!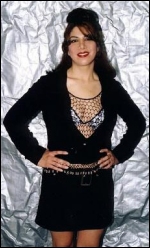 Jaci Johnson!
Jaci doesn't get along too well with other females in the wrestling biz.
Sexy Jaci makes her way to the ring with her man.
Jaci!
Jaci Johnson's Stats...
Height:

5' 6"

Weight:

132

Hair:

Dark Auburn

Eyes:

Black

Hometown:

Dallas, Texas (USA)
Jaci Johnson's Profile...
How It Started:

I used to watch wrestling with my dad since I was six years old. The first time I watched it, I was hooked! I grew up in the Dallas, Texas area and always went to the WCCW shows. I knew then that this is what I wanted to be part of. I ended up getting married and left wrestling behind, but it never left my heart and soul. After sometime (and a divorce), I decided "why not do it now and live your dream?"...so here I am!

Gimmick:

Jaci Johnson is the spoiled brat sister of wrestler John Johnson. She loves gold and will go to whomever is holding a title.

Outfit/Costume:

When managing, I like to wear anything that shows skin. It is a good distraction for both the opponent and referee when need be! When wrestling, I wear red cargo pants, blue/white off the shoulder top and black combat boots.

Manager Of:

Charlie Dreamer.

Have Managed:

Shimdog; Pretty Boy Delgado; Cassanova; Dinn T. More; Pain & Agony; Hangtime Players; Dream Lovers; Charlie Dreamer; Halo.

Biggest Allies:

Charlie Dreamer; Handsome Mitch Connor; John Johnson; Shimdog; Halo; Rain; The Stro.

Most-Hated Enemies:

Amber O'Neal.

Career Highlight:

Managing Dinn T. More against Raven; winning the NFW Women's Title.

Favorite Wrestlers:

Paul London; Shane Helms; Jeff Hardy; Ashley.

Wrestling Ambition:

To keep working as many shows as possible for as many promotions as possible.
Jaci Johnson's Personal Notes...
I work in health care and I am also currently studying Health Information Technology.....I'm crazy about animals! I have two dogs, Bradley and Riley.....I am a collector of many things, such as paintings, dragons, swords/knives and Barbie dolls.....I am originally from New Orleans, Louisiana but I grew up in Texas (just outside of Dallas).....I have one brother, two nephews and two nieces.....My favorite pastime is watching action or suspense movies. I've had the opportunity to be in two movies: Miss Congeniality and The Rookie, and I would love to do more of that.....My general hobbies are: making candles, designing clothes and writing.
Latest Jaci Johnson News...
I am currently out with a torn ACL.
Essential Jaci Johnson Links...