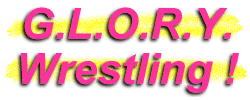 Lexi Moon
a.k.a. "Lex"
Manager
If something strange is happening at ringside, there's a good chance that Lexi Moon and her crew of juggalos are involved. From the wacky outfits and crazy makeup to her troublesome antics during her men's matches, this juggalette causes nothing but grief from the time she comes through the curtain until the sound of the final bell. Is it any wonder why she's been nicknamed The Queen Of Pranks And Mischief?!
"Unique" describes Lexi Moon perfectly!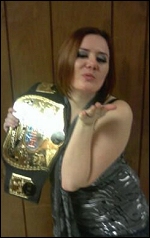 Lexi loves nothing more than collecting gold for her boys.
Lexi poses with her men and her dog, Quinn.
The Juggalette in a more relaxed setting.
Away from the ring, a very sexy Lexi Moon poses for the camera.
Lexi Moon's Stats...
Height:

5' 3"

Weight:

125

Hair:

Dark brown or black with red and blonde stripes.

Eyes:

Green

Hometown:

Detroit, Michigan (USA)
Lexi Moon's Profile...
How It Started:

I'll make this short cuz I know you don't wanna hear a super long story. I've watched wrestling on television ever since I was a little kid. When I turned 17, I used to joke with my friends and say "Hey, I'm gonna do that someday!" They didn't believe me of course. But then a guy I knew asked me if I wanted to be his valet. I jumped at the chance. Before long, I teamed up with the Hounds Of Hell then went with Loki. Then with a few arrangements and adding a few different people, we became the Carnival Rejects.

Gimmick:

My gimmick isn't too far off from what I am really. I just like to go out there and rock it. No matter what I'm doing or who I'm managing, I just wanna go out there and have a good time. I'm usually known as the punk rock chick or the freak-show juggalette crazy girl.....

Outfit/Costume:

Now a days, I'm wearing my black shorts with fishnet tights, different halter shirts and tanks that I make (or have my friends make) outta old psychopathic shirts, punk bands and what not. I also wear my ripped up jeans with paint splatters on 'em, wife-beater shirts with dirty phrases or plaid skirts when I'm not involved in the ring action too much.

Manager Of:

Justyn Wylde; Joey Roth.

Have Managed:

The Hounds Of Hell; The Family; The Carnival Rejects; Hollywood Anarchy.

Biggest Allies:

Big Mack; Ken Kato; Chuckie; TC Washington; B-Trails.

Most-Hated Enemies:

Milo Cash; The Zulus; The Russian Assassins; Alucard.

Career Highlight:

Winning the six-man tag trophy with Loki and Lotus; helping Loki win the national title; winning the tag titles a few times; and working with Matt Hyson/Spike Dudley in January 2005. He is by far one of the coolest guys around.

Favorite Wrestlers:

Alex Shelley; Daffney; Molly Holly; Essa Rios; Nosawa; Matt and Jeff Hardy; John Morrison; AJ Styles; MATT/Spike Dudley.

Wrestling Ambition:

I'm really just involved in wrestling for fun right now. Plus, I don't like the pressure WWE puts on their "divas" with their looks and having to be some "model-type" rather than an actual wrestler. Therefore, if I had to choose where to go with my career, TNA would be just fine for me and even better...they film at Universal Studios!
Lexi Moon's Personal Notes...
Hmmmmm, I really never know what to say about myself. Let's see: I listen to just about any type of music--from rap to rock to punk--just about anything BUT country.....I LOVE horror movies and comedies.....I have three dogs at home: my two min. pins Spike (yes, as in Dudley)and Quinn, and my pug Phoebe. Sometimes I even bring Quinn out to the ring!.....My favorite pastimes are horseback riding, traveling, hitting up different concerts in the area and just getting some down time to do absolutely NOTHING.
Latest Lexi Moon News...
Nothing major going on right now. I'm taking bookings again for me and my boys. Please email me for available dates!
Essential Lexi Moon Links...