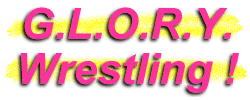 Seven Briggs
a.k.a. Fluff Dupp
Wrestler
Seven Briggs, a top manager in Florida for several years, attained "breakout" status in 2002 as TNA's Fluff Dupp...the manager of hillbilly brothers Stan and Bo Dupp. Whether this beautiful G.L.O.R.Y. Girl is in action as country-girl Fluff in her pigtails and cut-off shorts--or standing ringside as Seven in a sexy mini-skirt and slinky top while managing Dagon Briggs--you can be sure that she is going to be a huge factor in leading her men to victory.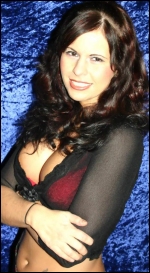 They don't make managers much prettier than Seven Briggs!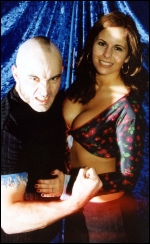 Seven is always at the side of her main man, Dagon Briggs.
The beautiful Seven Briggs!
Seven Briggs' Stats...
Height:

5' 9"

Weight:

135

Hair:

Black

Eyes:

Brown

Hometown:

Jacksonville, Florida (USA)
Seven Briggs' Profile...
How It Started:

I started a dance group similar to the Nitro Girls for a local fed. But when that didn't go over too well, I started managing. I first worked local shows in Jacksonville, then we started working all over Florida and the East Coast.

Gimmick:

Seven started out with a gothic gimmick, but now I wear whatever I feel like when I am Seven. Fluff Dupp is a country girl similar to Ellie Mae from the Beverly Hillbillies.

Gear:

Whatever I feel like on that particular

day! : )

Biggest Allies:

I am everyone's friend. ; )

Most-Hated Enemies:

I'm a good girl...I don't have any

enemies! ; )

Career Highlight:

Working the NWA 53rd/54th Anniversary Shows; working for TNA; managing Wrongful Death when they became Florida Unified NWA-IPW Tag Team Champs; working the Dragon-Con sci-fi convention.

Wrestling Ambition:

To go as far as I can in this business and get there because I earned it the right way...and not by kissing someone's ass to get there.
Seven Briggs' Personal Notes...
Other than working in wrestling, I have been a nurse for many years. I work full time at a psychiatric hospital.....I am also a dancer. I started at the age of three and I've been dancing ever since! I'm trained in ballet, pointe, tap, jazz, and modern...but ballet and pointe are my favorites.....I have six cats.....I LOVE Heavy Metal music and all things HORROR!
Essential Seven Briggs Links...