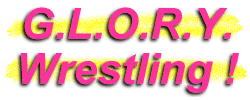 Siren Demented
Manager
Hailing from Brooklyn, New York, big, beautiful and unpredicatble Siren Demented is doing everything in her power to help her man go straight to the top. Don't let the smile of this ringside menace fool you. When she's prowling the perimeter of the ring, no one is safe. Not the man in the opposing corner. Not the ref. Not even the fans in the front row!
A big smile from Siren Demented.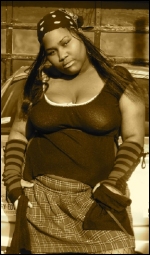 She's beautiful, she's tough...and she can be oh-so-bad!
Don't let Siren's smile fool you...she can be very unpredictable at ringside!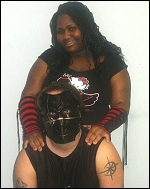 Siren and her main man, Blackwater.
Siren & Blackwater.
Siren Demented's Stats...
Height:

5' 5"

Weight:

Wouldn't you like to know?

Hair:

Red/Black

Eyes:

Dark brown

Hometown:

Brooklyn, New York (USA)
Siren Demented's Profile...
How It Started:

I have been watching wrestling since I was a baby. I loved the moves and glamour of the sport as a child. As a teenager, I began to really appreciate the hard work the guys (and girls, of course) put into every match...the emotion they drew from the crowd, the excitement, every "edge of your seat" moment...it was great stuff. Soon after, I decided I wanted to be a part of something great, and that "something" was wrestling. I looked into training and found a place in NJ called East Coast Pro Wrestling. It was cool, but I had to stop training after a while,because I was broke and had family problems. Now I am a manager, but one day I hope to get back into the ring and kick some butt!

Gimmick:

My gimmick is a little wierd. I have an "evil, deplorable, maniacal thing" going, but at the same time I am sweet and caring about my wrestler.

Outfit/Costume:

I wear a whole bunch of different things. But I mainly wear bell bottoms, fishnet, arm warmers, black boots and bandanas.

Manager Of:

Blackwater.

Have Managed:

No one else is more important to me than Blackwater!

Biggest Allies:

Blackwater; Canadian Crusher.

Most-Hated Enemies:

Enemies? Everyone loves me!

Career Highlight:

Just knowing I am making the crowd happy. Even if they are booing me, I know they are enjoying themselves and I think that in itself is a highlight.

Favorite Wrestlers:

Blackwater; Jerry Lynn; Chris Benoit; Eddie Guerrero; C.M Punk; Shane Helms; Jazz; Molly Holly; Red; AJ Styles; Chris Sabin; Christopher Dainels; The British Bulldog (R.I.P); Owen Hart (R.I.P); Bret Hart; Randy Savage; Hulk Hogan; Andre The Giant; Mildred Bruke; Moolah and Mae Young; Jushin Liger; Ricky "The Dragon" Steamboat; Scott Hall; Chris Jericho; Ultimo Dragon; John Cena; RVD; DDP; Sean O'Haire.

Wrestling Ambition:

To make the fans happy, have fun and help Blackwater get to the top in the ring and in life. As far as my WRESTLING career goes, I'm in this for the fun. If I dont make it to the WWE, well that's just fine with me. I want to work for NWA TNA. That's a big dream of mine, so hopefully it will happen one day. If not, as long as I am helping Blackwater be the best he can, I will be happy.
Siren Demented's Personal Notes...
My real name is Kristen.....I love hard rock and metal music! Some of my fav bands are Iron Maiden, Judas Preist, Ozzy, Sabbath, Cannibal Corpse, Cradle OF Filth, Slipknot, Danzig, Korn, Mushroomhead and DevilDriver. My fav band of all time is Alice In Chains!.....I have three cats (Ozzi, Whitey and Shady) and a pitbull (Nero).....I live with Drew (Blackwater) who is my boyfriend...if you havent guessed it by now!.....I'm a cool person and I like to have fun and be around funny people.....You can email me anytime. My email and my AOL screen name can be found on my website.
Essential Siren Demented Links...