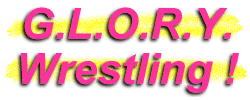 Sista O'Feelya
Manager
She's high-fashion, snooty and thinks she's "sooo all that". Sista O'Feelya is so disliked by ringside wrestling fans, even her own daughter called her a "meanie" after witnessing her interference during a recent match! Sista O'Feelya has been making new fans (and enemies) on the Southeast indy scene as the manager/valet of SAW's Derrick King Enterprises and IWF's Southern Destruction.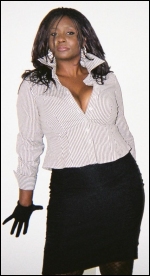 Indy manager/valet Sista O'Feelya!
Sista celebrates another victory for her man.
The sexy sista O'Feelya!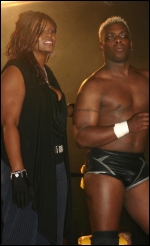 Ms. O'Feelya hits the ring with one of her men.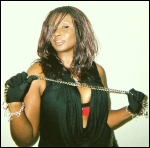 Uh-oh...is O'Feelya planning to use that chain?!
The fashionable Sista O'Feelya is certainly not shy when it comes to her ringside attire.
Sista O'Feelya's Stats...
Height:

5' 8"

Weight:

Yeah, right!

Hair:

Black

Eyes:

Brown

Hometown:

Coatopa, Alabama (USA)
Sista O'Feelya's Profile...
How It Started:

I attended an AIW show that took place around the corner from where I was living at the time. I liked what I saw and contacted them about starting out on their street team...but the guys decided to put me on the show. And the rest, as they say, is history!

Gimmick:

Sista O'Feelya is very snooty, loves showing off her best assets and thinks she's sooo all that. I don't interfere in every match, but when I do it usually ends with my guy winning. However, more recently I've been interfering a lot more and even getting into some hair pulling catfights!

Outfit/Costume:

I'm all about going into a show with a theme, then usually wearing an outfit, sometimes designer, to match it. For example, when AIW did its DIE HARD show, I decided to wear only a wife beater (a more girly one) since that's what Bruce Willis wore throughout the movie. I just wore mine with heels! I once channeled the Pussycat Dolls for an IWF show and wore a little pleated mini, fishnets and furry healed boots. I often wear very flashy jewelry short black gloves. Recently I've been coming to the ring in business-like gear and my version of semi-formal wear. As you can see, I'm a student of fashion and trends!

Manager Of:

For SAW, I am the personal assistant to Derrick King, who runs Derrick King Enterprises, which currently manages JT Stahr and Charles Evans. For IWF, I manage Southern Destruction (Kaos and Scotty the Body). I'll keep you guys posted as I begin managing more men.

Have Managed:

For AIW, I was head cheerleader for the black militant faction The Movement, which last consisted of "The Panther" Tyrone Evans (who is now under a WWE developmental contract down in Florida), "Kano" Josh Emmanuel, Lamont "Action" Jackson and myself. The Movement also consisted of The Savage (now Nick Belushi of Alpha Beta Duke), The Masked Fish and The Rev. Malcolm Farrakahn.

Biggest Allies:

My allies right now are Derrick King Enterprises (SAW), Southern Destruction (IWF), my former brothers in The Movement(AIW) and Absolute owner Chandler Biggins (AIW).

Most-Hated Enemies:

Anybody who goes against my guys. Right now in IWF I'm having headaches from the Longrider's valet, Double D, and Commissioner Terry Means. At SAW, Vordell Walker and the SAW tag team champs, LT Falk and Drew Haskins, are currently the thorns in DKE's side.

Career Highlight:

I can honestly say that anytime I go out to the ring, it feels like the first time, so I feel like every show is a highlight! But I actually have two shows I'm really proud of. The first happened in AIW when Tyrone Evans faced off against Eddie Kingston. I brought my little girl to the show--where I interfered in the match--and afterward she would not talk to me for being a "meanie"! After my catfight with Double D, Crossville's finest (the real cops) were waiting in the back wanting to question us. That was awesome! If I can get the fans and even my own daughter mad at me, then I've done my job...lol!

Favorite Wrestlers:

Every great drama needs an antagonist, so the heels have always done it for me. Right now, I'm loving Edge, Chris Jericho and Kurt Angle. I think that everybody would want to be a fan favorite, but a true entertainer is willing to go that extra mile to play the villain and make the fans just want to literally smash their face in if they were to see them on the street.

Wrestling Ambition:

Although it would be a dream come true to work any amount of time for the WWE or TNA, I think I will leave that to the younger set. Right now I want to do more indy shows and possibly even travel to more states. I'm more of a sponge right now. I can honestly say with each show I learn something new from the guys in the back, as well as on the job, to strengthen whichever character I'm playing.
Sista O'Feelya's Personal Notes...
When I'm not being a super indy manager/valet, I'm a dedicated business professional, super spoiled wife and doting mom to a gorgeous and precocious five year old.....I'm a phenomenal cook!.....I exercise regularly.....I try to take in any great action flick and book that I can afford! Okay, the action flicks don't have to be great...good or all-right will do!.....Unlike the pampered Sista O'Feelya, I grew up in a very small town (I don't even know if you can call it that!).....I was salutatorian of my high school class and graduated from Auburn University (War Eagle!).....I've worked for two Ohio law firms and a Georgia detention center.....Believe it or not, I once had a brief stint on a women's pro football team!.....My grandmother, mom and other family members made me a very strong and independent woman (a lot of the time to their own chagrin!)...but I can happily say that I am not afraid to try much of anything (much to my own chagrin!).....Right now, I'm looking to add another fabulous tatt to rival the heart armband on my left arm.....I'm trying out all the recipes in my french cookbook. Well, maybe not the fish mousse or soup!.....Blue and purple are now duking it out for my fave color.....I like literally like all types of music (the iPod most-played range from Jimi Hendrix to Garth to Maroon 5).....My fave food is movie theatre popcorn with lots of butter--it is my achilles heel!.....I also enjoy long walks on the beach, fall sunsets, kittens...lol...I'm just kidding about that!
Essential Sista O'Feelya Links...