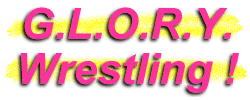 The Plastics
a.k.a. "Megan and Riley"
Manager
Meet Megan and Riley...better known as The Plastics. These two ladies are on a mission to manager their way to the top of the professional wrestling world! That is, when they're not shopping, trying on clothes, talking about guys, going to concerts, watching Tom Brady, listening to music, producing their own Web TV shows, designing ring outfits, Googling themselves on the internet, texting friends and seeing what other people have to say about them. The Plastics motto: "As a matter of fact, the world DOES revolve around us!"
Amazingly, The Plastics believe that the world
does
, in fact, revolve around them!
Megan and Riley: The Fantastic Plastics!
The Plastics believe that looking good in the ring is as important as winning.
Megan and Riley record yet another Plastics Webisode from the front seat of Riley's car.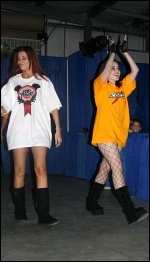 The girls work up the crowd as they head to the ring.
The Plastics' Stats...
Height:

Megan: 5' 5" / Riley: 5' 9"

Weight:

Perfect

Hair:

Megan: Brown / Riley: Red

Eyes:

Megan:Hazel / Riley: Blue

Hometown:

Orlando, Florida (USA)
The Plastics' Profile...
How It Started:

Megan started training at the end of 2004. Unfortunately, her school closed down shortly after. Megan later brought Riley to a wrestling show because she was eager to check it out. Riley was bitten by the wrestling bug and the rest is history.

Gimmick:

We are the Barbie dolls that you will never get to play with!

Outfit/Costume:

We design and make most of our own outfits that we wear at shows. Usually they consist of a short skirt, really hot high heels and an intricate top that has rhinestones all over it.

Manager Of:

The Heartbreak Express; Fear.

Have Managed:

Morgan Davis; Lance Alonte; Kim Dakota.

Biggest Allies:

Those who are willing to buy us everything that we ask for!

Most-Hated Enemies:

Anyone that is not willing to work with us--

and do everything we say

--is against us.

Career Highlight:

Every show is a new highlight because we are out there working hard, and more and more people begin to recognize us and follow us. We especially love when people talk about us on the internet, when they review our shows or have listened/read our interviews.

Favorite Wrestlers:

Bret Hart; Trish Stratus; Molly Holly; Shawn Michaels.

Wrestling Ambition:

We'd like to go as far as we can in the professional wrestling world. We've worked hard, and we continue to put in a great amount of time in developing ourselves and learning.
The Plastics' Personal Notes...
We both enjoy singing and all things 80's. But after that, we have our differences!

Megan graduated from USF with a BC in communication and currently works for an internationally distributed record label.....If wrestling doesn't work out, she would like to be in her own post-hardcore band or tour manage other artists.....Megan has appeared in a merchandise catalog for Fueled By Ramen/Decaydance/Atlantic Records. She has also been a featured extra on the Wayne Brady Show in his Circle of Life video.....Megan likes the New York Yankees!

Riley has been featured on ABC's Soap Week and has been a ring girl for TNA Wrestling.....She loves Gavin Degraw (for his music and hot looks).....One of Riley's all-time favorite bands is the Goo Goo Dolls.....Her favorite athlete is Tom Brady.....She loves all things Victoria's Secret, tube socks and making t-shirts into dresses.....She also loves Hello Kitty.....Riley likes the Boston Red Socks!
Essential The Plastics Links...
The Plastics Video