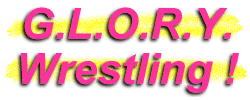 Tweetie
Manager
Tweetie may look like a sweet as sugar, innocent little school girl...but this devilish valet/manager from Alabama will use any distraction she can to help her man. When Tweetie heads to ringside, the fans takes notice...even before she starts screaming in their faces to shut up! She loves nothing more than to see the hand of her charge, Stupid, held high in victory. And if that means putting herself in harms way to choke, slap and kick his opponent when he is down on the floor, she'll willingly do it. Tweetie often pays the price for her interference, but this sexy little minx just does not learn and continues to be a force at ringside across Alabama and Georgia.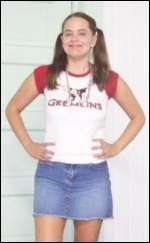 Tweetie!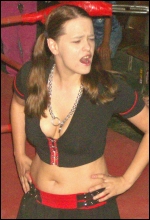 Tweetie has some choice words for ringside fans.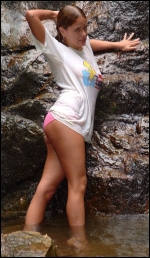 Tweetie on the rocks?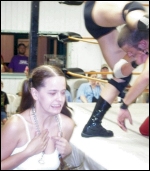 Tweetie slaps and runs!
Tweetie's Stats...
Height:

4' 11"

Weight:

106

Hair:

Brown

Eyes:

Blue

Hometown:

Anniston, Alabama (USA)
Tweetie's Profile...
How It Started:

I grew up watching wrestling with my father, who was a huge wrestling fan. I was hooked...and although I didn't really know how, I knew that one day I would be a part of wrestling. I never stopped going to shows and one day I met a wrestler called Stupid D. Klown (who is now my wonderful husband). Soon after, I became his valet and have been doing it every since.

Gimmick:

A smart-mouth brat who is never happy if she is not getting her way...works heel, and willing to do whatever is necessary to help her man win his match.

Outfit/Costume:

Have recently been going for the school girl look...something that really ticks the fans off!

Manager Of:

Stupid.

Biggest Allies:

Ryan O'Reilly; Trixie Heart.

Most-Hated Enemies:

Jack Lord; Sarah Lord; Joseph Slaughter; Mandy and Ragin Viper;

Career Highlight:

Winning ACW's "Most Hated Award" in 2004 and 2005. Being on the same card as Road Dogg Jesse James.

Favorite Wrestlers:

Stupid; Hulk Hogan; Shawn Michaels; Edge; Rey Mysterio; CM Punk; Chris Jericho; Marty Janetty.

Wrestling Ambition:

To get some publicity.
Tweetie's Personal Notes...
I'm a member of a cancer foundation to help kids with cancer who are in need.....I like to collect Tweety stuff.....My favorite colors are yellow and blue. Bet you can't guess why!.....I love swimming, working out and playing/chatting with people online.....I have two dogs. Cid is a Jack Russel who is very spoiled and loves attention. My other dog is named Jidderbug.....I have a wonderful husband who I love and thank for getting me in the business.
Essential Tweetie Links...
Tweetie Video