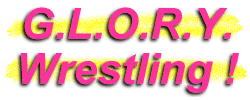 Valerie Malone
Manager
Valerie Malone's trip to wrestling stardom has been a long and winding one. Influenced by Miss Elizabeth as a young wrestling fan, Valerie decided that she would take her elegance and beauty into the world of pro wrestling. But Mom's and Dad's insistence that their little girl was too petite for the wrestling ring put the breaks on that plan...for a while! Valerie stuck with her dream. A dream that even a bout with cancer couldn't derail. Now, Valerie Malone puts her beautiful body on the line as she leads her men to the ring in her role as manager. And she continues to pursue her dream of someday becoming a wrestler herself!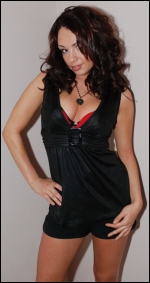 The beautiful Valerie Malone.
Valerie could be a cover girl on any major fashion magazine!
Valerie flashes a dangerous look at a rival manager.
Oh-so-sexy Valerie Malone!
Valerie Malone's Stats...
Height:

5' 2"

Weight:

110

Hair:

Brown

Eyes:

Brown

Hometown:

Milwaukee, Wisconsin (USA)
Valerie Malone's Profile...
How It Started:

I can definitely thank my love for wrestling to my older brother. He started watching it when he was two years old so naturally, when I came along, I'd be watching it right by his side. I grew to admire Miss Elizabeth. Watching her week-in and week-out not only made me want to be a beautiful and elegant woman, but it also made me realize that I wanted to be in pro wrestling. My brother began training to be a wrestler when he was 16. So again, I would come to all the shows with him and was even able to do little tasks like selling raffle tickets and putting away chairs. I didn't care what I did...at least I had some hand in it! I knew I wanted to train to be in wrestling but I also knew my parents wouldn't like it since I was a little, petite girl. They were always scared I would hurt myself! So I decided to put off training until I was 18. Meanwhile, I met a wrestler and got married. After we were together, I was diagnosed with cervical cancer. I knew my dreams of being in wrestling would have to be put on hold. After many surgeries over the course of a year, I was 98% cancer free. A month later, I was on my first show in Indiana. It was the best experience of my life and I am so thankful to be able to be involved in wrestling as much as I can!

Gimmick:

Valerie Malone is the snobby, glamorous type. She is willing to do whatever she can to make sure her man wins...even if that means putting her own (beautiful) body on the line!

Outfit/Costume:

Anything from super short skirts...to form fitting dresses...to see through shirts! When you look this good, ANYTHING can look great!

Manager Of:

Silas Young; Jayson Cash; Mickey McCoy; Chase McCoy.

Have Managed:

Y.R.R; Derrick St. Holmes; Jayson Cash; Silas Young; Mickey McCoy; Esteban Molina; Chase Mccoy.

Biggest Allies:

Jayson Cash; Silas Young; Mickey McCoy; Chase McCoy; Esteban Molina.

Most-Hated Enemies:

All women, of course! But as of late: Dysfunction, Drake Younger, Arya Diavari and Prince Ali are on the top of my s**t list!

Career Highlight:

Managing Y.R.R. at Ring Of Honor.

Favorite Wrestlers:

Rick Rude; Shawn Michaels; Silas Young; Chris Hero; Dysfunction.

Wrestling Ambition:

I am just hoping that I can continue doing this every weekend and to learn as much as I possibly can. And hey, what girl wouldn't want to be a Diva?
Valerie Malone's Personal Notes...
My favorite show is

Roseanne.

I have a husband and a cat named Oliver.
I LOVE spending time with my family.
Disney World is my FAVE!
I once got my knees cut-up snorkeling in the keys with my hubby.
I love Marilyn Monroe movies.
I can wear a size 3 1/2 in little girl shoes!
Essential Valerie Malone Links...