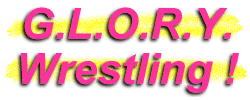 G.L.O.R.Y. Wrestling is the premier online resource for the latest news and information about the hardest working, most popular women in today's professional wrestling scene. We currently profile 246 of the hottest female wrestlers, managers and valets working the rings of North America, Europe, Mexico, Asia and Australia. Also, check out G.L.O.R.Y.'s salute to the Legends Of The Ring: 8 ladies who helped to pave the way for the women wrestlers of today!
Custom Search
G.L.O.R.Y. Site Updates
Latest website changes...
August 2, 2010 [10:30pm]...
New G.L.O.R.Y. Girl Skarlett: Meet this unique UK wrestler!
July 30, 2010 [1:00pm]...
New G.L.O.R.Y. Hot 100: July 25th chart published.
July 28, 2010 [11:00pm]...
Meet Rock-N-Roll Rock-C: Newest G.L.O.R.Y. Girl makes her site debut!
July 26, 2010 [9:00pm]...
Misty James profile updated: New info, pics, gallery, video and more.
July 24, 2010 [7:00pm]...
Cherry Bomb major profile update: New format, info, pictures, gallery and more.
April 23, 2010 [3:45pm]...
Australian G.L.O.R.Y. Girl debuts: Beauty and talent from down under, meet Shazza McKenzie!
April 19, 2010 [10:00pm]...
New G.L.O.R.Y. Girl debut: Meet the violent and unpredictable Crystal Fire.
April 18, 2010 [11:45am]...
Meet December: New G.L.O.R.Y. Girl makes her debut!
February 13, 2010 [2:20pm]...
AmyLee major profile update: All new info, pix, photo gallery, video, more!