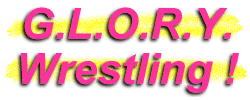 21st Century Fox
Wrestler
Athletic. Attractive. Entertaining. And some say...even a little crazy! 21st Century Fox has been bringing her high-flying, exciting style of wrestling to Canadian fans for several years...and they have been enjoying every moment of it! "Foxy", as the fans have come to call her, enjoys what she's doing and it shows every time she steps through the ropes. Is this Canadian wrestler really a little crazy? Yeah. Crazy like a fox!
Canada's 21st Century Fox!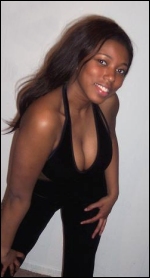 21st Century Fox is as sexy outside the ring as she is talented inside of it!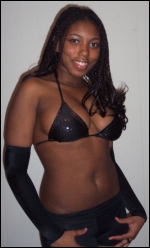 A big smile from Foxy.
An early 21st Century Fox promotional picture.
21st Century Fox's Stats...
Height:

5' 7"

Weight:

130

Hair:

Black

Eyes:

Dark Brown

Hometown:

Montreal, Quebec (CAN)
21st Century Fox's Profile...
How It Started:

I used to watch wrestling as a child with my brother and I enjoyed it very much. I got away from it for a while, but then started watching again a few years ago...and really got hooked. I've always been pretty athletic from playing football in high school. And I always wanted to be an entertainer. Wrestling seemed to be a good way to combine the drama of entertaining people with the athleticism that I love so much.

Gimmick:

Crazy...like a Fox!

Wrestling Style:

I can adapt to pretty much any style. Technical, brawling, old school, high flying.

Gear:

I wear anything from pleather pants to skirts to shorts with a halter top usually. All different colours and styles.

Titles Held:

IWA North American Women's Champion; OSPW Women's Champion; PWA Elite Women's Champion.

Biggest Win:

Winning the PWA Elite Women's Championship in a triple threat match against Cheerleader Melissa and Misty Haven.

Worst Loss:

Taking a devestating Vertebreaker from Cheerleader Melissa in a title match.

Favorite Type of Match:

I like straight-up singles matches, intergender matches, tag matches (mixed or not)...pretty much any type of WRESTLING match.

Favorite Moves/Holds:

Tilt-A-Whirl Headscissors; Suicide Dives to the outside; Sidewalk Slam; DDT.

Finisher:

My finisher is usually a variation of a Bulldog or a sit out Rock Bottom, both called the 21st Century Drop.

Biggest Allies:

I pretty much rely on myself. Sometimes I'll ask for help from my brother Reggie. Other than that, I tend to roll alone.

Most-Hated Enemies:

Elmira the Iron Maiden; Misty Haven; Cheerleader Melissa; Melissa Coates.

Toughest Opponent(s):

Elmira the Iron Maiden. Our feud will never end. And Cheerleader Melissa...watch out for her finisher and forearms!

Career Highlight:

My career highlights have been winning the title, of course, and working a show that had over 800 people...complete with pyro, lights, and smoke!

Favorite Wrestlers:

My favorite male pro wrestler is, and will forever be, The Rock! He's got great charisma and entertainment value no matter what people say about his wrestling. My favorite female pros are Lita, Jazz, Victoria, Jackie, Molly and really any other female wrestlers because I learn something from all of them.

Wrestling Ambition:

I love wrestling and I hope to keep doing it for a long time. I would love to travel more, and I hope that I become successful enough to be able to wrestle full time. And, of course, I would LOVE to get to the WWE...which is the ultimate goal.
21st Century Fox's Personal Notes...
I guess you want the boring stuff...hmmm...let's see.....My favorite colour is gray.....I like to chill and I don't like working out, but I guess it needs to be done!.....I have an older brother who is five years my senior.....My favorite meal is steak and potatoes with corn nibblets.....I like to be creative in the ring and out.....My favorite animal is the pig.....Here's a fun fact about me: I can curl my tongue into the shape of a "W".....Some people say I'm weird, but most of those people live in my head and the others are invisible, so they don't count...
Essential 21st Century Fox Links...