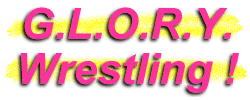 Alexis Laree
Wrestler
Alexis Laree has quickly become one of the best-known female athletes in indy rings throughout the East Coast. Whether she is stepping-up to do battle or managing one of indy wrestling's top male stars, Alexis can't help but grab the spotlight with her stunning beauty, self-assured attitude and wrestling expertise. Some call her cocky. She claims she is just very confident in her abilities. But one thing is certain: Whether you love her or hate her, you have to admit that Alexis Laree is someone you can't ignore!
Alexis Laree: The perfect combination of athletic ability and sex appeal!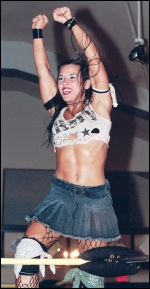 Alexis soaks in the cheers of her fans.
Alexis looks as good in front of the camera as she does in the wrestling ring!
Alexis makes her way down the ramp for her first Monday Night RAW match!
Alexis is ready to blame the ref for a slow count after her opponent kicks out of her pin attempt.
Is it getting hot in here? Of course it is when Ms. Laree is in the room!
Alexis Laree's Stats...
Height:

5' 3"

Weight:

125

Hair:

Brunette

Eyes:

Brown

Hometown:

Richmond, Virginia (USA)
Alexis Laree's Profile...
How It Started:

A local promoter spotted me and asked if I was interested in a pro wrestling career. From there it's been a whirlwind ride. I started out in KYDA Pro managing several guys including Tommy Dreamer, who I helped win the Heavyweight Title. In March of 1999 I had my first match in West Virginia. It was an Intergender Tag. Myself & Jake Damian vs. American Mike Brown & Candie. I decided to train hard and attended dojos and camps such as Dory Funk's "Funkin' Conservatory" in 1999, ECW training dojos in 2000, Ricky Steamboat Camp in 2001 and a Ricky Morton & Bobby Eaton Camp in 2002. I also started training with Maryland Championship Wrestling where I learned a lot and made so many connections.

Gimmick:

High-energy, sexy, swift, in-your-face and ready to roll. Just remember that I'm going to kick your ass! I am cocky and confident in my abilities, but I'm one who never lets my aggression in the ring get the best of me.

Wrestling Style:

I do it all and I can adjust my style to my opponent. I'm mainly a technical and mat-based wrestler, but I've been known to brawl and I love to take to the air.

Gear:

My gear has changed throughout the years. I have a variety of halter tops and pants that I love to wear. For a while I wore spiked body armor and shinguards. I changed to a wrestling outfit in ROH with bellbottom pants with my logo on the side and a halter top. In TNA, I wore probably my favorite outfit: a grunge look with a variety of skirts, tops and fishnets.

Titles Held:

SCW Diva Champion (2001); CSWF Women's Champion (2003); PWF Pro Wrestling Universal Women's Champion (2003); DCW Women's Champion 2003.

Biggest Win:

Helping Raven and Julio Dinero take down Jeff Jarrett on PPV and being the first and only woman to ever be in the "Clockwork House of Fun Match".

Worst Loss:

Without a doubt, losing to that fat creep of a manager, "Extreme T&A" Devin Sturgis. Because of that, he gained control of a whole wrestling promotion! I really let the fans down that day.

Favorite Type of Match:

I love singles matches but my favorite are mixed tag-team matches.

Favorite Moves/Holds:

Triple Kick; Victory Roll; Inverted DDT.

Finisher:

"Laree DDT": a simple Tornado DDT...nothing fancy.

Biggest Allies:

Joey Matthews; Christian York; Raven; Julio Dinero.

Most-Hated Enemies:

Simply Luscious; Kara Slice; and that toad Devin Sturgis!

Toughest Opponent(s):

Sumie Sakai; Persephonie.

Career Highlight:

Being named one of Pro Wrestling Illustrated's Top 100 Women of All-Time! What an honor to be ranked with some of our sport's best representatives. Another would be my WWE dark match against my friend, Dawn Marie. We worked very hard and the fans and staff gave a lot of positive feedback!

Favorite Wrestlers:

I have enjoyed watching Lita in the ring, and of course Dawn Marie, who has helped me improve my skills as a manager and a wrestler over the years.

Wrestling Ambition:

One day I will be the WWE or NWA Women's champion! Most likely both. But as long as I am working full-time in an organization that appreciates my skill and beauty, I have no complaints!
Alexis Laree's Personal Notes...
Family is very important to me. I'm very close to my brother and sisters and love them a lot.....I grew up training and competing with horses since I was four years old, and horseback riding is still one of my favorite hobbies.
Essential Alexis Laree Links...