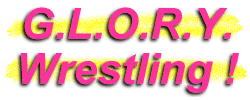 Alexzandra
a.k.a. The HardCore CowGirl
Wrestler
She is still denim clad and still holds the title of The Queen Of Vermont Wrestling! But she is also The HardCore CowGirl with a party hard outlook and a hell-raising way of life. Alex has carved a place for herself throughout the Vermont wrestling territory as a fan favorite in a cowgirl hat. With a no-nonsense way of managing and a tough as nails in-ring style, Alex should never be underestimated. Because if you do, she will most definitely take you for a ride that lasts a lot longer then 8 seconds!
Alexzandra a.k.a
The HardCore CowGirl
!
Alexzandra is one of Vermont's top lady wrestlers.
Alexzandra mixes it up with fellow G.L.O.R.Y. Girl Miss Montgomery.
Alexzandra uses a bull rope to strangle her opponent!
Alexzandra's Stats...
Height:

5' 5"

Weight:

130

Hair:

Dirty reddish-blonde

Eyes:

Ginger brown

Hometown:

Killington, Vermont (USA)
Alexzandra's Profile...
How It Started:

Like many other ladies in the business today, I was inspired by Miss Elizabeth and Sherri Martel in the 80's. In 2000, I broke into Vermont wrestling as a valet/manager and worked my way into the ring from there.

Gimmick:

The HardCore CowGirl! I'm a wild-hearted, partying problem-solver that is an ace in the hole to a lucky few and a hell-raiser to those that cross me! But it's not a gimmick...it's my way of life.

Wrestling Style:

Old school; hardcore.

Gear:

Blue jeans, handcuff belt buckle, cool top, cowgirl boots and a cowgirl hat!

Titles Held:

Two-time Slam All Star Wrestling Vermont Women's Champion.

Biggest Win:

Both times I won the SAW Women's Title are crowning achievements.

Worst Loss:

Any loss is a party killer!

Favorite Type of Match:

Intergender tag-team; hardcore brawls.

Favorite Moves/Holds:

Whatever it takes to wear them out!

Finisher:

"Faded Glory"

(Front Russian Leg Sweep).

Biggest Allies:

Depends on who I am rollin' with!

Most-Hated Enemies:

Whomever tries to crash my party!

Toughest Opponent(s):

Demonica.

Career Highlight:

There are so many.

Favorite Wrestlers:

Wildcat Chris Harris; Cowboy James Storm; Abyss; Gail Kim.

Wrestling Ambition:

To entertain the fans.
Alexzandra's Personal Notes...
I listen to a lot of country music but I also enjoy Buddy Guy and Stevie Ray Vaughan.....I have addictions to Yankee candles, blue jeans and blankets. I have chairs overflowing with blankets in my home!.....I love it when a man smells of a great scented cologne.....I think 9 1/2 Weeks is the hottest movie ever made.....Halloween is my favorite holiday and we throw a party every year!.....I enjoy cooking, baking and I love creating flavorful salads.....I have a beautiful black cat named Dallas that means the world to me.....And I am happily married to fellow wrestler Maxx Burton.
Latest Alexzandra News...
Be sure to check out Alex and fellow G.L.O.R.Y. Girl Tweetie's Slut Puppy clothing and merchandise line at CafePress.com/slut_puppy.
Essential Alexzandra Links...