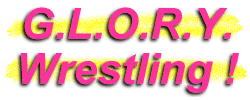 AmyLee
a.k.a. Pryme Tyme AmyLee
Wrestler
Big. Bad. Rough. Tough. Vicious. Ruthless. Nasty. Brutal. Should we go on or do you get the picture? AmyLee is all of these things and more. Win or lose, this lady's opponents feel like they've gone through a back alley brawl by the time the final bell sounds...and that's just the way this biker chick likes it. When AmyLee hits the ring, don't expect a scientific match. Expect a ring riot!
Big, bad AmyLee!
AmyLee's toughest battles have been against the equally big and bad, Awesome Kong.
AmyLee poses with her niece (and possible future tag partner?) Jessica.
Tough and ready to brawl in leather...
...feminine and sexy in leopard!
AmyLee snuggles with her BFF Jim Neidhart.
AmyLee's Stats...
Height:

5' 7"

Weight:

42DDD

Hair:

Blonde

Eyes:

Blue

Hometown:

Highway To Hell
AmyLee's Profile...
How It Started:

A martial arts competition sponsor was Dennis Coralluzzo. He saw I had a passion for fighting and that I was also knowledgeable about pro-wrestling/submission fighting. I've been watching wrestling since I was three years old!

Gimmick:

BIG, BADASS, BIKER BEYOTCH!

Wrestling Style:

Super-Heel/Brawler; Old School.

Gear:

Leather, spandex and skulls...oh my!

Titles Held:

NWL Ladies Champ; Dangerous Women Of Wrestling Champ; Women Of Extreme Champ; NWS Ladies Champ; WSU Tag Champ (w/Taylor Wilde); 2009 WXW-C4 Empress of the Ring.

Biggest Win:

Knocking Awesome Kong on her assets.

Worst Loss:

Against Nicole Bass. She cried "MY FACE, MY FACE!" after I punched her dead in the face...what a whimp!

Favorite Type of Match:

One I am booked in.

Favorite Moves/Holds:

Leg drop and running mule kick. Listening to an arena full of people cringing while shouting "OOOOOOW" is TREMENDOUS!

Finisher:

I'm getting older so now its anything that will hurt my opponent and finish them off quickly. Love the running mule kick...thanks Mickey Knuckles! xoxo

Biggest Allies:

Me, myself and I.

Most-Hated Enemies:

Awesome Kong...enough said.

Toughest Opponent(s):

Awesome Kong. She's actually bigger than me! lol.

Career Highlight:

Working with Eddie Gilbert and learning psychology and the fact that LESS IS MORE!...ONLY other female to tag with Jim "The Anvil" Neidhart (just call me a fat Nattie! lmao).....Being the ONLY female to referee a New Jack match (New Jack vs. Lowlife Louie).....Any promotion willing to book/pay/push my career.

Favorite Wrestlers:

Hulk Hogan, Wolfgang Von Heller (I put such a lip lock on him that he married me) and, of course, "Captain Redneck" Dick Murdoch.

Wrestling Ambition:

To see the WWE acknowledge "big" women again. Hell hasn't froze over yet!
AmyLee's Personal Notes...
When I'm not wrestling, I can be found working in the legal profession with my glasses, pearls/diamonds and suits.....I was a world class competitor in hundreds of karate tournaments. Highlights: 2002 NAGA Women's Heavyweight Champion (grappling). Became the youngest United Martial Arts Referee Associationís referee at age 16. Proudest moment was becoming the first female black belt in American GoJu Karate at age 16.....I think of life as a recipe: the more wonderful things you put into it, the better/sweeter tasting it will be!.....When I'm not training/teaching karate or on the road wrestling, I enjoy spending time with my family (especially my hubby, niece/goddaughter Jessica and nephew/godson Ryan Charles).....I have raised ferrets since I was 15 years old.....I believe that a good strong family foundation is what made me the successful person I am today. My family and coaches have made a HUGE impact in my life Thank you Master McFarland (Oss).....I live by a motto from my favorite movie, Auntie Mame: "Lifeís a banquet and most people are starving to death. I ain't missed a meal because...FAT GIRLS RULE."
Essential AmyLee Links...
AmyLee Video