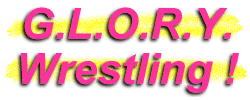 Angel Williams
Wrestler
When you first lay eyes on Angel Williams, you would think that this gorgeous blonde might be a fashion or fitness model. Perhaps an actress. She could be any of those if she so desired. But lucky for us, this beautiful angel has actually chosen to pursue a career as a professional wrestler. Not content with strictly working as a valet, Angel Williams has taken to training hard and often. She's determined to show that a lady can be both beautiful and tough in the ring...and she's succeeding! Watch Angel Williams as she battles her way across Canadian and U.S. rings on her way to the top.
Sexy Angel Williams is ready to take over the rings of Canada and the U.S.
Angel flies high during this intergender battle.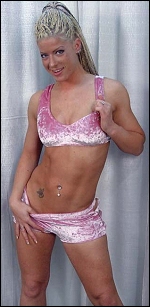 Angel shows off some of her many tatoos and piercings.
An Angel Williams dropkick is about to put Elmira The Iron Madien down to the mat.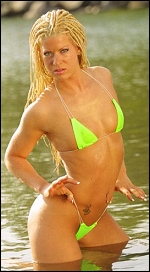 Angel's body was made to be displayed in a string bikini!
Angel can be as nasty as the next heel. Just ask 21st Century Fox...whom Angel is choking over the second rope!
Angel Williams' Stats...
Height:

5' 6"

Weight:

118

Hair:

Bleach Blonde

Eyes:

Grey

Hometown:

Toronto, Ontario (CAN)
Angel Williams' Profile...
How It Started:

I had always been watching wrestling ever since I was a young girl. At 18, I was chatting with a friend who was doing ring announcing for some independent promotions in the States. I asked him if he knew of any promotions in Ontario, because I was clueless at that point. He emailed me some website links and phone numbers, and I made my contacts from there.

Gimmick:

I work both babyface and heel depending on the promotion. When I'm babyface, I'm happy and smiling and all about the fans, baby! When I'm heel, I'm nasty, bratty, bitchy and down right annoying! lol! Being an "Angel" can work well both ways!

Wrestling Style:

Again, it differs if I am baby or heel. I can do a lot of high flying, lucha libre wrestling (thanks to my wonderful trainer, Rob Fuego) and some very flashy spots. I can take a good beating, but I can also dish out a nasty one! When I'm heel, I just stomp and choke and chop and do every dirty trick in the book. I can also get into a bit of a verbal spar with the fans! But it's all good!

Gear:

When I wrestle I usually wear a two piece outfit: either tight pants and a bra top or shorts and a bra top. Mostly I wear a bra top and shorts, with the shorts having the sides all cut out and only small strips of material holding it together. If I'm valeting, it's usually a really small top and a skirt (works perfectly for those wonderful cat fights, ha-ha!). Oh...and platform boots. Can't forget the platform boots! I really like shiny materials and light colours for my gimmicks: pink, baby blue, white or lavender. I also like black, dark blue and red.

Titles Held:

OSPW Women's Champ.

Biggest Win:

All of my wins are big ones! Some would be wins over Elmira the Iron Maiden and Tracy Brooks.

Worst Loss:

Hey no one likes losing, so they are all the worst!

Favorite Type of Match:

Would have to be a straight up one-on-one competition. I love wrestling Tracy Brooks. We have worked each other many times and she always brings out the best in me. Tag matches are okay, but I much prefer singles.

Favorite Moves/Holds:

Can't say I have a favorite, but I like doing hurricaranas, tilt-a-whirl head scissors, a variation of mexican arm drags and a cross body off the top rope. I also like technical wrestling and doing a lot of mat work which I am constantly working on! Oooooooo ya, chops! I love chops!

Finisher:

I dont really have a patented finisher yet, but I usually use my cross body off the top.

Biggest Allies:

When I'm not wrestling her, 21st Century Fox has been known to be an ally of mine. Tyson Dux and El Tornado are also allies. Oh ya, and my boy Chris Sabin! He's my MXPW boyfriend! [wink]

Most-Hated Enemies:

Always has been, and probably always will be, Tracy Brooks.

Favorite Wrestlers:

On the indy scene, it's Showtime Eric Young, Original Sinn, Tyson Dux, El Tornado, Chris Sabin, Elvis Elliott, Stevie Lee and Dangerboy Derek Wylde. In the WWE, I really like Edge, Chris Benoit, The Guerreros, Rey Mysterio Jr., Jamie Noble and Hurricane Helms. Shawn Michaels is my all-time favourite and was my inspiration to get into wrestling. I also really like Molly Holly and Victoria.

Wrestling Ambition:

To become very successful in wrestling, I would really like to make it to WWE. I believe that I can!
Angel Williams' Personal Notes...
When I'm not wrestling, I am a Personal Trainer for a gym in Toronto. I am very into fitness and look to get more into that as well.....I have 12 piercings (10 in my ears, my belly button and tongue) and 5 tattoos (all very nice ones).....I am big into sports. My favourite sports besides wrestling are: hockey, football, baseball and volleyball.....I love to exercise.....I love music, too. My favourite kind of music is hard rock and alternative and some of my favourite bands are: Korn, Linkin Park, Hoobastank, The Used, Trust Company, Incubus, Disturbed and Good Charlotte.....I have an older sister named Carmen who means the world to me.....I also have a hamster named Mojo.....I graduated college with a degree in Sports Administration and am now focusing my life on fitness and making it to the WWE.....I have the greatest friends and fans in the world who all support me and nothing can beat that!
Essential Angel Williams Links...