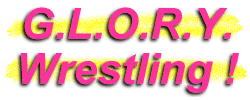 Aurora
a.k.a. Goddess
Wrestler
Aurora may still be relatively new to the sport, but you'd never guess it from watching this Canadian wrestler. Perhaps that's because the Vancouver beauty has already spent several years in the rough and tumble rings of Mexico! Learning from the best and toughest Mexican luchadoras, Aurora has taken her well-earned wrestling skills back north...and she intends to use those skills to conquer her U.S. and Canadian opposition. Keep your eyes on this glowing star from the north: Aurora!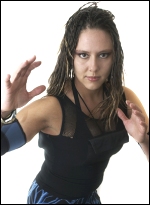 Aurora!
Aurora has this opponent locked-up with a tight side headlock.
Aurora will bend the rules if she has to! That's Simply Luscious who she's choking over the ring ropes.
Now it's Alere Little Feather who is suffering at the hands of Aurora.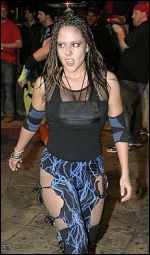 A confident Aurora strides to the ring for her match.
Aurora is a popular masked luchadora in Mexican rings.
Aurora's Stats...
Height:

5' 4"

Weight:

120

Hair:

Brown

Eyes:

Brown

Hometown:

Vancouver, British Columbia (CAN)
Aurora's Profile...
How It Started:

I was a tomboy in a skirt growing up. Pretending to be superheroes and play wrestling pretty much sums up my childhood. After a run in the criminology field, I was more interested in boxing during my college years. I naturally entered the fitness industry and got a job working at a local gym. This is where I was directly introduced with my first wrestling ring. There was a wrestler at my gym who knew I was into boxing but also a wrestling fan, and he invited me down to a local wrestling school. After my first lock up and round of chain, I was hooked! I discovered there was a place that could keep me challenged for a long time.

Gimmick:

I just go out there and be myself. Sometimes the fans like it, and I'll use that to my advantage. Sometimes the fans don't like it, and I'll just focus on the match because that's what's important.

Wrestling Style:

I'm a technical wrestler who adapts to my opponent's style, be it aerial or old school. I can handle either. Recently I've started to involve more power as well!

Gear:

My gimmicks are always changing depending on what I feel like wearing. But I always wear something that looks good and professional. I do like the color electric blue but I don't always use it.

Titles Held:

PWA Women's Elite Championship; PWX Women's Championship; LLF Women's Championship (Ciudad de Monterrey) held under masked character as Goddess.

Biggest Win:

Any win over a tough, challenging opponent!

Worst Loss:

October 7th, 2008: Arena Mexico (CMLL) semi-main event. I lost my mask to a cheating Princesa Sugey and her cheating second Hiroka.

Favorite Type of Match:

I don't like catfights! I do enjoy singles matches and mixed tags.

Favorite Moves/Holds:

Various arm drags; suplexes; neckbreakers.

Finisher:

Various Mexican leg submissions.

Biggest Allies:

Marcela; Lady Apache; Dark Angel.

Most-Hated Enemies:

Amapola; Hiroka; Princesa Sugey.

Toughest Opponent(s):

Amapola...she is a well-rounded, experienced wrestler.

Career Highlight:

Getting onto the roster of Consejo Mundial de lucha libre in January of 2008.

Favorite Wrestlers:

Eddie Guerrero; Chris Benoit; Dean Malenko; William Regal; Blue Panther; Lady Apache; Mariko Yoshida.

Wrestling Ambition:

To work internationally and learn as much as I can. Hopefully being employed by a company that let's me do what I love to do! To continue learning and improving.
Aurora's Personal Notes...
I love going to the beach and being outdoors.....I love all animals. I've had all types of pets growing up from a monkey and a parrot to a pig named Rudolph (don't ask). I've had a pony, lots of dogs, rabbits and cats. There were lots of other animals but I didn't consider them pets (lambs, goats, chickens, roosters, cows). The goat is how I got the scar beside my left eye when I was 4-years old!.....Most of my childhood I spent visiting the local forests to go deer watching. Therefore, I eternally love deers!.....I still like boxing, kickboxing, soccer and rollerblading.....I'm always up to date on the latest in nutrition because it feels good spiritually and mentally when you're eating right.....I enjoy working out.....Reading a good book always feels great.....I do Yoga because it feels so good!.....I like watching movies. Mostly comedies, dramas, suspense and anything different and interesting (but they need to have a good storyline).....As for music, any type that has a good tune and beat and can keep me interested for the whole song is fine with me.....Last but not least, I enjoy traveling and meeting new and interesting people (another reason why I love wrestling!).
Essential Aurora Links...