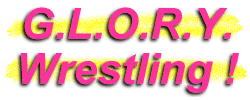 Eva Destruction
a.k.a. The Princess Of Destruction
Wrestler
It only takes a few minutes in the ring to realize why the aptly named Eva Destruction is feared by her opponents. This woman takes no prisoners and shrinks from no one...whether it be man or woman. At 5' 8" and 190 pounds, Eva certainly has the power of a big woman, but many are surprised to see that she also has the agility of a gymnast. High-flying is not uncommon for Destruction! There's a powerful force on the East Coast wrestling scene...and her name is Eva Destruction!
Eva Destruction.
Eva isn't afraid to go hardcore...even with the big men!
Destruction puts the forearm to Amber O'Neal's pretty throat.
Eva poses with Manager Of Champions Neil Sharkey.
Eva drops the elbow!
Referee intimidation is one of Eva's usual tactics.
Eva Destruction leaves the ring with ally Saratoga Stud.
Eva Destruction's Stats...
Height:

5' 8"

Weight:

190

Hair:

Dark Brown/Red

Eyes:

Brown

Hometown:

Irongate, Virginia (USA)
Eva Destruction's Profile...
How It Started:

I got involved in wrestling because I love sports and I knew this would be a challenge...something I have never done. People were constantly telling me that I would never make it and that I didn't have what it takes to succeed. That only fed into my need to make my dreams come true. I started watching wrestling on TV when I was in high school, and I quickly realized that this is where I belonged...I followed my heart. After many years of being out here on the road, I have learned that a friend will help you move, and that TRUE friends will help you move a body. I've been going strong, never looking back and I am always pushing myself to the limit in and outside of the ring. I work hard to do my best for the fans even though I could care less about them when it comes down to me kicking butt and taking names. I owe a lot to my good friends and trainers Mr. Big Stuff and "Manager of Champions" Neil Sharkey for keeping me in the business; without them, I would have given up something I loved--for something I hated.

Gimmick:

My gimmick is a little gothic, but more so one of an overpowering heel. I come to the ring in custom wrestling pants along with my face painted in a custom red and black design. Normally my top consists of a gimmick oriented one or one of my Eva Destruction T-shirts. I really get the fans against me with my mic work and wrestling style because they don't expect to see such a diverse set of moves. My gimmick wouldn't be complete with out my Doc Martins and my custom entrance music of "I GOT THE POWER" remixed by DJ Eric Clary. My theme really lets the fans know what I am all about: power and respect.

Wrestling Style:

Super Heel, Brawler & Power Wrestler...but I am not afraid to take it to the air. I can go with the best of them and execute most moves with proficiency. I've been known to flex my muscle in the ring and use a cornucopia of power moves, however the moonsault and high cross body from the top are also two moves to look out for!

Gear:

Custom imported pants with "Destruction" down one leg and a cross on the other. The cross replicates one of the tattoos on my back: "No Matter Which Way Your Paths Cross They Always Lead to your Destiny". I can also been seen in my Eva Destruction T-Shirt, arm bands and face paint.

Titles Held:

UCW Ladies Champion; IWA Ladies Champion; SVCW Ladies & Intergender Champion; ASPW Women's Champion; CPW Ladies Champion; PCW Ladies Champion; etc.

Biggest Win:

Any match that I win is always my biggest.

Worst Loss:

It's funny really...even when I lose,

I still win!

If you know what I mean...wink-wink.

Favorite Type of Match:

My favorite match would have to be a cage match. You can use any tactic you can think of to get the win...

and there is NOWHERE TO RUN!

Favorite Moves/Holds:

The Sweetness; The Nova-Cane; The Kriptonite Krunch; Top Rope Moonsault.

Finisher:

The Sweetness or The Nova-Cane.

Biggest Allies:

Mr. Big Stuff; The Saratoga Stud/Reverend Troy; Muhammad Black; Manager of Champions Neil Sharkey; Humpreys J. Dupont IV; Jynxxx; Damien Wylde; Omega 5; Jynxx; Justin Saine; The Red Dragon.

Most-Hated Enemies:

Lexie Fyfe; Tiffani Monroe; Persephone; Amber O'Neal.

Toughest Opponent(s):

Lexie Fyfe...without a doubt! This lady is tough and she doesn't play around, that's for sure!

Career Highlight:

Getting the chance to wrestle the legendary Dusty Rhodes!

Favorite Wrestlers:

Dusty Rhodes; Eddie Guerrero; Mick Foley; Shawn Michaels; Jeff Hardy.

Wrestling Ambition:

To keep pushing my way to the top, touring the U.S. and never looking back.
Eva Destruction's Personal Notes...
When I'm not wrestling, I enjoy music and going to concerts. Anything ranging from Rap to Hard Rock, Country and Soul. As long as it has a beat, I will listen to it.....I also enjoy going to the movies (usually a good comedy) with my husband, hanging out with my friends in my condo in Richmond, Virginia and taking care of my German Shephard/Rottweiler mix Abby, my boys Gram and Kilo (German Rottweilers) and Nick my German Shephard. I am usually very busy taking care of puppies, but when I am not with them.....I also love sports, so when I have the chance I'm either on the softball field or basketball court for a friendly game (or not so friendly, depending on if I am winning the game).....My favorite color would have to be Carolina Blue, because even though I'm from Virginia I'm a Tar Heel at heart!.....When I'm not in the ring wrestling or training, I can often be found kicking it with my husband Mat, The Saratoga Stud/Reverend Troy and/or Muhammad Black.....I love to relax out on the beaches of the OBX.....There is nothing more important in this world than good friends, wrestling and winning.
Essential Eva Destruction Links...