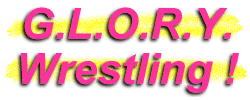 Cherry Bomb
Wrestler
One of the fastest-rising young stars coming out of the Ontario women's indy scene, Cherry Bomb has been impressing fans across North America with her high-energy, high-intensity and high-flying brand of wrestling. Cherry's technical ring skills have brought her to both the WSU and SHIMMER wrestling arenas of the U.S., as well as many of the top promotions in her home country of Canada. But don't be surprised if you see this aggressive ring warrior break some rules if things aren't going her way! Could a run at WWE or TNA be in Cherry Bomb's future?
Athletic and sexy: Cherry Bomb!
The Bomb shows that sometimes cocky attitude.
Cherry clamps on a tight side headlock.
The Canadian pounds away at her opponent's midsection.
At the gym, Cherry gets ready for a workout with the iron.
Cherry Bomb's Stats...
Height:

5' 5 1/2"

Weight:

118

Hair:

Black and Pink

Eyes:

Green

Hometown:

Toronto, Ontario (CAN)
Cherry Bomb's Profile...
How It Started:

I have been watching wrestling ever since I was in diapers, thanks to my daddy! I continued to watch wrestling with my dad as I got older and we use to go to live events all the time. They are absolutely my most treasured memories. My dad passed away when I was twelve, and since he was the only person I watched wrestling with, I stopped watching it completely. It wasn't until a few years later when fellow I was dating tuned-in one Monday night...and the sport which captivated, excited and intrigued me was once again introduced to my life. Watching Trish Stratus made me wonder if I too could step into the squared circle...and as they say, the rest is history!

Gimmick:

My gimmick is really just an extension of my personality. I am a very high energy, outgoing person and once I have my sights on something I will stop at nothing until I have it and I think that comes across in the ring.

Wrestling Style:

My style is a bit of everything: technical, high-flying, hard hitting, and a bit of old school.

Gear:

My outfits change all the time. I get bored quickly so I am constantly designing new tights and experimenting with different colour combinations.

Titles Held:

Pro Wrestling Xtreme Women's Champ; Great Canadian Wrestling Wild Champion.

Biggest Win:

I was recently in an "I Quit" match against RJ City. It was probably the hardest match of my life but it was well worth the battle because in the end,

I came out on top!

Worst Loss:

I hate to lose! They all suck!

Favorite Type of Match:

Singles are probably my favorite, but I really love tag and intergender matches too!

Favorite Moves/Holds:

Tilt-a-Whirl Head Scissors; Dropkicks; High Cross Body; Headlocks!!

Finisher:

"Cherry Popper"

(X-Factor).

Biggest Allies:

Danyah; Krystal Banks; ME!

Most-Hated Enemies:

Whoever decides to get inside the ring with me!

Toughest Opponent(s):

Sara Del Ray; Jamie D (TNA's Sirelda).

Career Highlight:

Winning the 2009 Ontario Indy Wrestling

Women's Wrestler of the Year

award!

Favorite Wrestlers:

I have SO many! First and foremost is Hulk Hogan! Next to him is Shawn Michaels, Ricky Steamboat, Ric Flair, Undertaker, Dynamite Kid, Owen Hart, Chris Benoit...and MANY, MANY MORE. There are SO many talented ladies out there, but TRISH STRATUS would have to be my absolute fav! She inspires me each and every day, she worked her ASS off and it paid off. I absolutely love her!

Wrestling Ambition:

To continue working hard, learning and gaining experience. I would LOVE to make a career out of wrestling! Working for World Wrestling Entertainment would be a dream come true!
Cherry Bomb's Personal Notes...
I am a Virgo!
I am a vegetarian.
I have a dog named

Hulk Hogan!

I am a certified Make-Up Artist.
I play guitar.
My favorite band is

The Misfits.

I change the colour of my hair as often as I change my underwear!
I

loveeee

shopping!
I'm from Canada...and I don't know how to skate!
My favorite thing to workout is LEGS!
I have an obsession with the TV show Friends!
And...if I could, I would live off of chocolate chip cookies. : )
Essential Cherry Bomb Links...