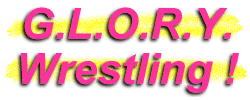 Constance
Wrestler
In the heart of wrestling's Mid-South region, Constance has been making a name for herself across the rings of her home state of Tennessee. This high-flying lady will step into the ring against any opponent--no matter how big or tough they may be--and put up quite a battle. Constance is not a lady to be taken lightly inside the ring ropes!
Constance!
Constance heads to the ring.
Constance applies a tough hammerlock on her opponent.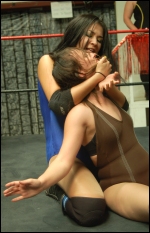 Constance absorbs the pain of a Su Yung chinlock.
Constance's Stats...
Height:

5' 3"

Weight:

125

Hair:

Brown

Eyes:

Blue

Hometown:

Cleveland, Tennessee (USA)
Constance's Profile...
How It Started:

It was pretty much an accident. I went with my sister to a local wrestling show. That trip not only led to me becoming a wrestler...I also met my future husband!

Gimmick:

I am a nice person who can only take so much.

Wrestling Style:

I do a little high-flying.

Gear:

My colors are usually black and pink.

Titles Held:

None yet.

Biggest Win:

GWF (4/3/2009) against Rock 'N Roll Rock-C. It was a #1 Contenders match for the Women's Title.

Worst Loss:

WCEW in North Carolina against Fantasia for the Thundergirls Title.

Favorite Moves/Holds:

Hurricanrana; flying clothesline.

Finisher:

"The Constant Pain"

.

Most-Hated Enemies:

Crystal Fire; Rock 'N Roll Rock-C; Fantasia; Tiffany Roxx; Jessica Wetmore.

Toughest Opponent(s):

Crystal Fire; Fantasia.

Wrestling Ambition:

I am just here to entertain the fans. If it is meant for me to make it big, then I will. But as of right now, I am happy just to have fun in the ring.
Constance's Personal Notes...
I am an easy going person....I was married on February 12th, 2005.....I have a step son and a little girl, Noelle, who was born March 16, 2007.