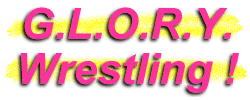 Crybaby
Wrestler
Ever meet a wrestler who can be described as "Hell on wheels"? Now you have! Meet Crybaby...a lady who found her way into professional wrestling via the roller derby track. This blonde beauty is a student of the Mexican lucha-libre style of grappling. Whether she's skating and jostling around the derby track or flying across the wrestling ring, it's clear that Crybaby is one tough lady who is doing what she loves!
Wrestler...roller derby jammer...gymnast...is there any doubt about how tough Crybaby is?!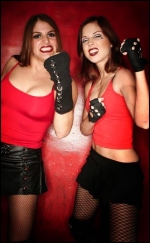 Crybaby with her partner and fellow G.L.O.R.Y. Girl Nikki T.
Crybaby is always looking for a fight!
Masked Crybaby has her opponent suffering!
Crybaby is even a little bit mysterious...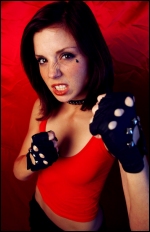 Grrrr...!
Crybaby's Stats...
Height:

5' 4"

Weight:

115

Hair:

Blonde

Eyes:

Hazel

Hometown:

Amherst, Ohio (USA)
Crybaby's Profile...
How It Started:

I actually became involved in wrestling in a round-a-bout way. I had been playing Roller Derby for the Los Angeles all girls league (www.derbydolls.com). After one of my games, I was approached by "Lucha Va Voom" and asked if I was interested in training with them. Of course, I jumped on the idea! Soon after, I began training with Misterioso and I was in my first match about three months later. I haven't been able to get enough since!

Gimmick:

Crybaby is a whiny, gotta-have-her-way kinda girl. She does have some dirty tricks though, and often uses her innocent looks to her advantage.

Wrestling Style:

My style of wrestling is definitely high-flying. I have a background in gymnastics so I love to use it whenever possible.

Gear:

My gear keeps changing, but at the moment, it's gold and black. My lucha mask has long blonde pigtails and a crystal teardrop. When I'm not wearing my mask, I'll have my signature teardrop under the left eye.

Titles Held:

Look out for me in the future!

Biggest Win:

Crybaby and Nikki T. vs. the Poubelle Twins at Lucha Va Voom (Oct 2006).

Worst Loss:

Crybaby & Cassandro vs. Nikki T. & Rubi Gardena at Lucha Va Voom (Aug 2007). This was the worst because everything was going great and when I was about to finish Nikki off with a folding chair, she moved and I accidentally hit my partner Cassandro, who decided to take the whole thing out on me!

Favorite Type of Match:

Lucha Libre tags.

Favorite Moves/Holds:

At the moment, I'm obsessed with Moonsaults and anything involving flips.

Finisher:

Moonsault.

Biggest Allies:

Nikki The Knockout; The Poubelle Twins; Cassandro.

Most-Hated Enemies:

Nikki The Knockout; The Poubelle Twins; The Kissing Bandit; Cassandro; Rubi Gardena; Rubi Red. Crybaby doesn't keep too many friends...

Toughest Opponent(s):

Nikki T. & Rubi Gardena.

Career Highlight:

Getting to work with Cassandro. He's been one of my idols forever. Just sucks the match had to go the way it did.

Favorite Wrestlers:

I love highflying moves, so anything TNA is right up my alley. But I grew up absolutely loving The Undertaker. I also really admire and aspire to Chilango and Durango Kidd (mi Maestros for a period of time) and Cassandro.

Wrestling Ambition:

To show that girls can get in the ring and fight too. I want to incorporate acrobatics and more high-flying moves into the sport and definitely get in the ring with some amazing wrestlers and work with some amazing people.
Crybaby's Personal Notes...
I grew up in a samll town in Ohio, and moved out to California in 1999 to pursue my dreams.....I've jumped around from hobby to hobby and got a pretty good range of work under my belt.....I started out doing modeling/acting. I've been featured in newspaper ads, commercials, music videos, sitcoms, films, etc., when I studied at Woodbury University in Burbank.....When I graduated from school, I began working as an animator right away. I absolutely love art and children's animation. I've produced animation for various clients such as MTV, Nickelodeon, Discovery Kids and Sesame Street.....While working at my current employer, I found out about a league of girls starting in Los Angeles called the "Derby Dolls." A group of about 60 girls playing old school roller derby on a handmade track in Chinatown. I took to the sport whole-heartedly and became the lead scoring jammer for the league. This is where my Crybaby persona all started! I currently skate for the dolls as Crybaby, #46, so keep an eye out for more derby action from us in the future!.....Roller derby has allowed me to get into some action sports that keep me going and on the edge constantly! Through the Dolls, I've been able to skate in The Datsuns' Girls Best Friend music video, against Johnny Knoxville and Steve-O for an episode of Wild Boys, at Jesse James' birthday party in Long Beach 2005, and even a Von Dutch commercial!.....As you've read above, derby is ultimately how I fell into the wrestling ring. Approached after a game by Liz of Lucha Va Voom, I began training and performing with the cast in late-2004. I love wrestling, I love being in the ring, and I love all the people I've met along the way! I can't wait to see what the ring has for me in the future.
Latest Crybaby News...
Watch out for Crybaby in 2008 as Scarlet Red in her first feature alongside Robert Englund (Freddy Krueger) called "2002 Maniacs: Beverly Hellbillies".
Essential Crybaby Links...
Crybaby Video