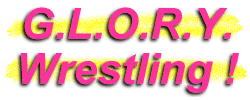 Crystal White
Wrestler
Crystal White, the Chicago area wrestler who was a Top 25 finalist in the first MTV/WWF Tough Enough, is as beautiful in front of a camera as she is talented inside the wrestling ring. This dark and sexy beauty wrestled in high school, but her real love was the pro ranks. After graduation, she headed straight to pro wrestling school and then indy stardom. Craving attention from any lens in sight, it's curious that Ms. White chose pro wrestling as a profession at all. One look at this sultry vixen is all you need to realize that she could be a modeling star at the drop of a flashbulb! Lucky for us, Crystal White chose the squared-circle for her future. Watch for this talented lady to hit superstar status soon...
Crystal White is one of the most gorgeous wrestlers in the business.
Crystal White is smokin'!
Beauty. Style. Attitude. Crystal White has it all!
When Crystal isn't wrestling, she's usually posing in front of a fashion photog's camera.
Crystal White's Stats...
Height:

5' 8"

Weight:

125

Hair:

Light-Brown/Blonde

Eyes:

Hazel/Green

Hometown:

Chicago, Illinois (USA)
Crystal White's Profile...
How It Started:

The NWO had just come out when I was a freshman in high school. That was back in 1996, and I was a total wrestling fan. I was even on the boys' wrestling team in school. I wouldn't call myself a tomboy, but right before school vacations, me and a couple of the guys in my art class would hold "hardcore matches" in the hallway with all of the old class furniture! I always told everyone that I was going to be a pro wrestler after I graduated. And now they all know that I was telling them the truth!

Gimmick:

Sexy, glamorous, vain and extremely camera hungry. I love to have my picture taken and I'll beat up anyone who gets in my way of being the center of attention.

Wrestling Style:

Technical and a little high-flying. I can dish it out and take it, too.

Gear:

Sheer white halter top and shorts with white bikini under. Just one of my many shocking and fabulous outfits.

Titles Held:

IUWA Ladies Champion; WCPW Ladies Champion; Mid West AWA Ladies' Champ.

Biggest Win:

I have to say beating Shane Matthews for his Junior heavyweight (or something like that) title at my first show of the year in Chicago Heights.

Worst Loss:

Any loss is a bad one.

Favorite Type of Match:

I love to beat up on men...so I'd say mixed matches are my favorites.

Favorite Moves/Holds:

Anything that involves me using my legs and inflicting pain. I like scissor holds and suplexes in particular.

Finisher:

Cutest Suplex Ever (German Suplex); Iron Butterfly (Angle Slam).

Biggest Allies:

Acid Jaz; Robby Dawber.

Most-Hated Enemies:

If you challenge me, you're an enemy. Besides, who would want to hate me?

Toughest Opponent(s):

I really don't have tough opponents...just tough to look at. lol!

Career Highlight:

Getting out into the independent scene from my old fed, doing PPV's, and being recognized for my talent.

Favorite Wrestlers:

I'd have to say Jacquline, Angle and Regal. They're hot and good workers.

Wrestling Ambition:

Of course, I want to make to the top. Maybe get out there and travel around in the independent circuit. I'd love to go to Japan, also.
Crystal White's Personal Notes...
Well, I have two toy poodles: Teddybears and Cottonballs.....My favorite color is seafoam green.....My background is black and German.....When I'm not wrestling, I'm doing runway modeling, swimsuit modeling, club promotions and making cartoons.....I love to dance!.....I have eight tats so far: butterflies and flowers. I have a few piercings as well.....I hate wearing flat shoes.....And I love the 80's!
Essential Crystal White Links...