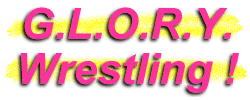 Crystal Fire
Wrestler
"If you play with fire, you will get burned!" And getting burned just may be the least of your problems if you choose to step into the ring against Crystal Fire! This lady isn't interested in simply winning. She seeks to destroy, annihilate and maim her opponents. How else can you explain the vicious stomping, choking, biting, clawing and eye gouging that she unleashes on any wrestler willing to step into the ring with her? It seems the more she hears her victims scream in pain, the better she likes it. Crystal Fire may be the most violent and sadistic woman competing on today's wrestling scene!
The dangerous and unpredictable Crystal Fire!
We don't think stomping is considered a technical maneuver...
Some say that Crystal Fire is "not all there". After seeing this picture, we think we'd have to agree with them!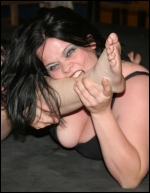 Crystal takes a bite out of her opponent's bare foot!
Crystal Fire seems to be enjoying this choke a little too much.
Crystal Fire's Stats...
Height:

5' 6"

Weight:

145

Hair:

Black

Eyes:

Blue

Hometown:

Cleveland, Tennessee (USA)
Crystal Fire's Profile...
How It Started:

I can count on family connections to further me in my already impressive career. I married into one of wrestling's most prominent families. My father-in-law, Bill Russell, was a major contender for many years, and my husband,

"Sensational One"

Slick Rick Hayes, is among the most respected competitors on the independent circuit. The wealth of knowledge and ring tricks these men possess gives me a tactical advantage in every match.

Gimmick:

I am a mean and nasty loud mouth heel. Despite my training and background, I have the heart of a brawler. Strong and tough, I often physically overpower my opponents with brute force, battering and pounding them into the canvas. It's no surprise that my finisher,

The Fire Crusher

, usually leaves my opponents stunned and defenseless against the pin.

Wrestling Style:

A deadly combination of technical wrestling skills and a powerful physique. I do some old school mixed with new school...which makes me one of the most dangerous women in professional wrestling. I have competed against some of the toughest women in the wrestling profession today. I give the fans 150% every time I wrestle. My opponents know they will get the fight of their lives whenever they step into the ring with me.

Gear:

One piece black and yellow outfit with booty shorts; one piece black and peach outfit with booty shorts; black shirt and black booty shorts.

Titles Held:

ECWF Womens Champion; TCW Divas Champion; CWA Divas Champion; GWF 10-time Womens Champion; GCW 2-time Womens Champion; APWF Womens Champion.

Biggest Win:

It was in Doulasville, Georgia, at Total Championship Wrestling. We had elimination matches leading to the main event, where I defeated Constance to become the first TCW Diva Champion.

Worst Loss:

It was in my home town of Cleveland, Tennessee, at Adrenalin Rush Wrestling where I lost to Pryme Tyme AmyLee.

Favorite Type of Match:

I like singles matches...I don't need anyone else getting in the way while I'm beating my opponent.

Favorite Moves/Holds:

Banana split;

"Fire's Nose Job"

; chops; super-suplex; Japanese arm drag;

"Burning Hair Whip"

.

Finisher:

Top rope bulldog;

"The Fire Crusher"

.

Biggest Allies:

Rock-N-Roll Rock-C; Mickie James; Lita; Trish Stratus.

Most-Hated Enemies:

Constance; Rock-N-Roll Rock-C; Michelle; Pryme Tyme AmyLee; Camron Star; Genni Right.

Toughest Opponent(s):

Pryme Tyme AmyLee; Rock-N-Roll Rock-C; Constance.

Career Highlight:

Winning the Total Championship Wrestling Diva Title; joining Memphis Ladies Wrestling (MLW).

Favorite Wrestlers:

Rock-N-Roll Rock-C; Mickie James; Lita; Trish Stratus; The Rock; Victoria.

Wrestling Ambition:

I am happy to entertain the fans. I love working the indy circuit, but if one day it's meant for me to make it big then so be it.
Crystal Fire's Personal Notes...
I am a happily married mother of two children: my little princess Summer and my little buck Ryan.
Essential Crystal Fire Links...