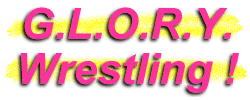 Danyah
Wrestler
Following in the footsteps of TNA's Gail Kim and Traci Brooks, as well as other fast-rising Canadian female wrestlers who are making their marks across North America, Danyah comes to G.L.O.R.Y. Wrestling through the Squared Circle Pro Wrestling facility and the Devine Dungeon. With a thorough knowledge of kickboxing and a background as a fitness professional, this blonde beauty is well-qualified for a career in pro wrestling. Danyah is proving that she has the desire, skill and good looks to make it far in the women's grappling game!
Danyah is one beautiful wrestler!
Danyah! [Photo: Gordo]
Danyah's abs are eye-popping!
Danyah can easily be a cover girl on any top fitness magazine.
Danyah puts the squeeze on her opponent.
Pouring it on!
Danyah's Stats...
Height:

5' 8"

Weight:

125

Hair:

Blonde

Eyes:

Green

Hometown:

Las Vegas, Nevada (USA)
Danyah's Profile...
How It Started:

I have been watching professional wrestling since I was a child. I love the story lines, athleticism, the myths of masculinity and femininity involved. In my mid-20s, I was working for a local fitness club chain. I was a manager there and was auditioning a new group of exercise instructors. One of my auditionees just happened to be Tiana Ringer. During the interview, I asked her about what she does in her spare time and she mentioned that she was training to be a professional wrestler. An instant friendship based on a mutual passion quickly developed. I soon learned that Rob Fuego, head trainer of Squared Circle Training, also worked out at my gym. Through Tiana and another manager at my club, who just happened to be a wrestler as well (Vlad the Penetrator), I was introduced to Rob. He invited me out to the training centre...and while most potential students usually watch their first class, I jumped in the ring without thinking twice and that was it. I was hooked!

Gimmick:

Danyah, the

"Sin City Vixen"

, is a dominant force on the independent circuit. Her solid training base, skills and athleticism--combined with her lean, mean and muscular physique--make her a top contender in any promotion, and for any title.

Wrestling Style:

I'm mainly technical and powerful with some high flying when required. I have had the pleasure of being trained by two people with very different backgrounds. Rob Fuego taught me solid fundamentals and helped incorporate lucha aspects into my repertoire, while Johnny Devine helped solidify my technical skills and strikes.

Gear:

My outfits vary, but I usually wear a bra-style top and shorts. I take great pride in my physique and I'm not afraid to show it off in my gear.

Titles Held:

Pro Wrestling Xtreme Womens' Champion; Great Canadian Wrestling W.I.L.D. Champion (3x); Pure Wrestling Association Elite 8 Cup Winner.

Biggest Win:

All my wins are important.

Worst Loss:

I hate to lose...so any loss!

Favorite Type of Match:

Intergender matches (both singles and tag).

Favorite Moves/Holds:

"The D-Bomb"

;

"The Meat Tray"

; O'Connor roll-up with a bridge;

Danyahcaranas

; various headscissor combinations and armbar submissions.

Finisher:

"The D-Bomb"

;

"The Meat Tray"

;

"The D-Roll"

; armbar submission.

Biggest Allies:

21st Century Fox; Tiana Ringer; Haley Rogers.

Most-Hated Enemies:

Cherry Bomb!

Toughest Opponent(s):

TNA's Sirelda; Cherry Bomb.

Career Highlight:

Being 3-time GCW W.I.L.D. Champion; Being involved in a six-person tag for Blood, Sweat and Ears that involved Tiana Ringer, Gail Kim and Traci Brooks; Managing my trainer, Johnny Devine, when he wrestled Psycho Sid at the Ottawa Supershow in August 2007.

Favorite Wrestlers:

I started watching wrestling because of Hulk Hogan. I was a total Hulkamaniac growing up...

and always will be!

My other favorites include Ric Flair, Bret Hart, Eddie Guerrero, Tyson Dux and Johnny Devine.

Wrestling Ambition:

I'd love to work for a promotion that would allow me to participate in pro-wrestling as a full-time career. I would love the opportunity to work for TNA or the WWE. Right now, I enjoy the thrill and the rush of being in front of a crowd, and will continue working hard to achieve my dream.
Danyah's Personal Notes...
I am a fitness professional with two degrees. One in French and one in Kinesiology.
I have five different fitness certifications.
I model in addition to wrestling and my full-time job.
I love working out and learning about the latest exercise trends.
I was trained by two fabulous trainers: Squared Circle's Rob Fuego and TNA's Johnny Devine.
I am a guest columnist for

Tha O Show

...an online radio internet show and website devoted to pro wrestling and mixed martial arts. Check it out at www.thaoshow.com.
Essential Danyah Links...
Danyah Video