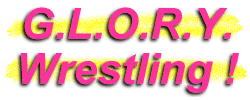 December
Wrestler
December may look like the sweet, perky, bubbly cheerleader you remember from high school...but don't let that big, innocent smile and those ever-present pom pons fool you! This brunette battler can be far more violent in the ring than you'd ever imagine. Over the past several years, December has climbed the ranks of the Chicago-land wrestling scene to become one of the top women grapplers in the Midwest. It looks like a big future is in store for this dangerous little cheerleader!
December poses with her title belt.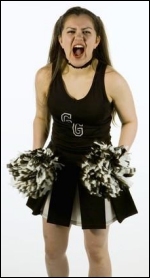 A nice, perky, bubbly cheerleader? This picture may make you think twice about that!
A perfectly-executed hiptoss.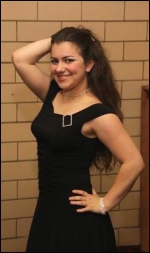 Away from the ring, a very sexy December!
A sweet smile from the not-so-sweet cheerleader.
December's Stats...
Height:

5' 3"

Weight:

126

Hair:

Chestnut Brown

Eyes:

Blue-green/hazel

Hometown:

Aspen, Colorado (USA)
December's Profile...
How It Started:

I've been a wrestling fan since I was 11 and first saw it on TV. I became addicted during the now infamous "Monday Night War" era and I looked forward to watching wrestling with my little brother every Monday. I wondered why there weren't a lot of women wrestlers, but I was entertained nevertheless. When I graduated high school and moved away from home, a friend of mine mentioned that he was training to become a pro wrestler. He invited me to go with him to a practice so I came along to watch. The trainers at PCW asked if I wanted to learn how to wrestle and I immediately said "YES!". I began my training within the month and haven't looked back.

Gimmick:

A vain, snobby, spoiled, self-centered, uppity cheerleader who demands attention and title belts. My gimmick stemmed from my role with the now defunct tag team

The Gridiron Grapplers

(brothers Joe, Tom, and Steve Heisman).

Wrestling Style:

Ground and pound!

Gear:

Cheerleading outfit complete with pom pons!

Titles Held:

PCW Women's Championship (3x).

Biggest Win:

My win against Kimberly Kash for the Women's Championship at PCW's 4Ever Flair. It was the biggest crowd I ever wrestled for (1900 fans in Oak Lawn, IL) and Kash and I beat the hell out of each other until I was declared the winner.

Worst Loss:

Any loss is bad, but what's worse is not learning from your mistakes.

Favorite Type of Match:

Singles, because I'm in control. Tag team competition is tricky because you have to depend on someone other than yourself.

Favorite Moves/Holds:

Texas cloverleaf; biel throw using the hair; double knees to the face;

"The First and Ten Elbow"

; anything involving the ropes.

Finisher:

"The Cold Shoulder"

(bareback).

Biggest Allies:

Joe Heisman.

Most-Hated Enemies:

Kimberly Kash; The Great Cheyenne; anyone else dumb enough to mess with me.

Toughest Opponent(s):

Kimberly Kash.

Career Highlight:

I was interviewed for an article about Chicago indy wrestlers in the Chicago Tribune. I was the only woman in the article and it felt amazing to be given a chance to tell my story and for women's wrestling to be acknowledged.

Favorite Wrestlers:

Lacey; Sting; Steven Reagal; Dean Malenko; Chris Jericho; Jarod Priest; MsChif; Jacqueline; Raven.

Wrestling Ambition:

I want my name to be associated with excellence in the ring. As long as my name commands respect on the indy circuit, that would be more than I could ask for. Most importantly, I want to be the wrestler that I didn't see when I was a little girl: the woman wrestler who keeps other little girls inspired enough so that they know that if they ever want to wrestle, then they can.
December's Personal Notes...
I read a LOT! Novels, biographies, you name it and I probably read it!.....I'm a bit of a comic book geek. Harley Quinn is my favorite character. I collect all of the comics that she's made an appearance in.....I have an extensive Tomb Raider collection of books, action figures, comic books, games and other collectibles featuring the video game legend.....I also love cats, snowboarding, writing stories and poems for fun, and listening to music. My favorite bands are Cold, Breaking Benjamin, Evanescence, Disturbed, Lifehouse, and SR-71.....My secret talent is that I can do one-handed push-ups. I will readily demonstrate this upon request. : )
Essential December Links...