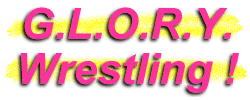 Jennifer Blake
a.k.a. Girl Dynamite
Wrestler
It's no wonder that Jennifer Blake has earned the nickname of "Girl Dynamite". This rookie sensation has been exploding across the Ontario indy wrestling scene with her enthusiasm, exceptional grappling skills and fearless attitude. Oh...and did we mention her dynamite sex-appeal?! Believe it or not, this stunning platinum-blonde has not only been involved in several intergender matches, she's also taken on a male opponent in a bloody, chair swinging street fight! This is one gorgeous ring battler who is not afraid to put it all on the line to prove that a beautiful gal can hold her own with the men inside the squared circle. In fact, Jennifer Blake is not only holding her own...she's blasting up the Canadian indy ranks like a rocket!
"Girl Dynamite" Jennifer Blake!
The platinum beauty pounds away!
Jen won't back down...even during a street fight.
The sexy Ms. Blake...
The gorgeous Canadian gets punished by a violent Sara del Rey.
Jennifer Blake's Stats...
Height:

5' 7"

Weight:

125

Hair:

Platinum

Eyes:

Blue

Hometown:

Niagara Falls, Ontario (CAN)
Jennifer Blake's Profile...
How It Started:

I've been a wrestling fan all my life and always wanted to be a wrestler. Nothing else, not a model or an actress. I ran away from home to meet Bret Hart when I was 15 hahaha! When some kids grew up with nudie magazines in between their mattress, I had wrestling magazines. I started ring announcing to get to know the business, got involved in a couple of angles and *poof*...I started training to be a wrestler.

Gimmick:

My favourite two wrestlers of all time are Dynamite Kid and Mitsuharu Misawa. I don't have so much a gimmick as a style of wrestling. I really appreciate the hard hitting big bump style and try my best to emulate that.

Wrestling Style:

It's a hybrid strong style/technical. I really love the Japanese style of wrestling and do my best to keep that alive in the ring.

Gear:

I always try to change things up depending on my mood. If I'm happy and easy going, I wear bright colours. If I'm ready for a fight, I usually wear camo and a bandana.

Titles Held:

None. I'm green.

Biggest Win:

My biggest win to date was my tag match with April Hunter against Cheap Heat in her last Canadian wrestling appearance.

Worst Loss:

Losing an intergender hardcore street fight.

Favorite Type of Match:

Right now, I am finding singles matches the most challenging, so I look forward to those the most.

Favorite Moves/Holds:

Striking, elbows and knees. I also like to use combination moves. Super kick is also one of my favorites.

Finisher:

"Dynamite Destroyer":

a double underhook version of the Canadian Destroyer piledriver.

Biggest Allies:

April Hunter; Notorious TID.

Most-Hated Enemies:

PD Skillz; Dan-e-o.

Career Highlight:

I had my very first singles bout against Curryman. THE REAL CURRYMAN!!! It's all downhill from here hahaha...

Favorite Wrestlers:

Dynamite Kid; Misawa; Shawn Micheals; Ric Flair; Tyson Dux; Cody Deaner; Molly Holly; April Hunter; Sara Del Ray; Daizee Haze; Beth Pheonix.

Wrestling Ambition:

I just want to be a good wrestler. If I can do that much, I will be happy!
Jennifer Blake's Personal Notes...
In my day job I'm a Personal Trainer.....When I am not working I can be found at the movies or playing video games. I'm all about RPG 's like Final Fantasy.....Oh, and I just got Fire Pro Wrestling and I love it!.....The Watchmen is my favorite graphic novel.
Essential Jennifer Blake Links...
Jennifer Blake Video