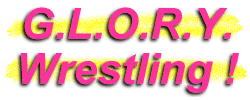 Sojo Bolt
a.k.a. Josie
Wrestler
Originally from Minneapolis, Minnesota, Sojourner Bolt (or simply "Sojo" to many of her fans) made a name for herself by battling her way across the rings of Chicago and the Midwest. Known at that time as Josie, she built up a following by impressing wrestling fans one match at a time with her ring savvy, athletic skills and personal likability. It was inevitable that this lady was destined for major success in the wrestling business. Now a TNA Knockout and known by millions of wrestling fans worldwide, Sojo Bolt's future in pro wrestling's women's division appears to be unlimited!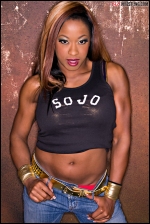 The gorgeous Sojourner Bolt!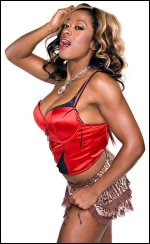 Sojo strikes a sexy pose at a recent promo shoot.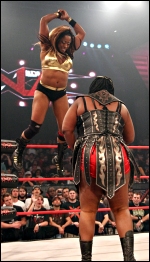 Tough in the ring: Bolt comes off the ropes with a big blow to Awesome Kong.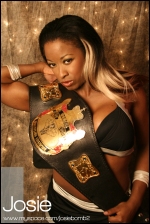 Some call her Sojo, some call her Josie...but all agree that Ms. Bolt looks great with the gold!
Sojo rocks the leopard print!
Sojo Bolt's Stats...
Height:

5' 4"

Weight:

130

Hair:

Black

Eyes:

Brown

Hometown:

Minneapolis, Minnesota (USA)
Sojo Bolt's Profile...
How It Started:

I started watching wrestling in 2001 after watching Lita jumping off the top rope into the Litacurrana. A year later at the height of Tough Enough, I decided I was indeed tough enough to give it a try. While I was researching schools, a friend of mine passed my phone number to Eddie Sharkey. He was actively searching for females to train. He called me and left a message about a show he was having that evening. I checked it out and had such a good time, I pretty much signed up on the spot.

Gimmick:

I don't need one.

Wrestling Style:

Old school for sure. I have no problem with technical wrestling and I love to brawl.

Gear:

I wear mostly gold, bright colors and animal prints.

Titles Held:

OVW Women's Champion(x4); MIW Women's Champion; CTCWA Women's Champion; WLW Women's Champion; XBW Women's Champion; 3XW Women's Champion.

Biggest Win:

Defeating Katie Lea Burchill to win the OVW Women's Championship.

Worst Loss:

I don't know...every loss is the worst.

Favorite Type of Match:

Singles matches.

Favorite Moves/Holds:

I like to use various suplexes and neckbreakers. I also love to use chops.

Finisher:

I use a spinning spinebuster called the

"Pop/Lock/n Drop"

, and I do a slingshot into a single-leg boston crab called

"The Dreadlock"

.

Biggest Allies:

At this moment...none!

Most-Hated Enemies:

Haters...they're everywhere!

Toughest Opponent(s):

Hands down, Ms. Natural. She's such a great heel and tough competitor. Every time we stepped into the ring together I grew as a wrestler.

Career Highlight:

Becoming a TNA Knockout would top the list, but the journey to get there has a lot of memorable moments.

Favorite Wrestlers:

Right now my favorites are Edge and Chris Jericho...both are great in the ring and fab on the mic. Molly Holly, Victoria and Jazz are my favorite female wrestlers.

Wrestling Ambition:

I plan to wrestle for as long as people continue to want to watch. My ambition is to be the best wrestler I can be.
Sojo Bolt's Personal Notes...
I currently live in Louisville, KY.....I am a huge mark for cartoons!.....My favorite color is blue.
Essential Sojo Bolt Links...
Sojo Bolt Video