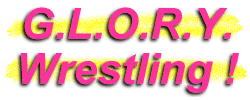 Kellie Skater
Wrestler
Spunky and energetic, Kellie Skater is one of the exciting ladies leading the charge of Australia's burgeoning women's wrestling division. Technically oriented with a healthy dose of high-flying acrobatics, Skater is a favorite of the fans Down Under. That is...except when her alter-ego, The Rate Tank, makes her appearance. Then the rulebook takes a vacation as this lady utilizes whatever means necessary to stomp, choke and pummel her way to victory!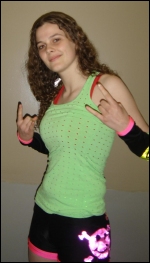 Australia's Kellie Skater!
It's not unusual to see the high-flying Skater leave the mat during her matches.
As
The Rate Tank
, Skater becomes much more aggressive as she throws the rulebook out the window.
You'll be seeing more of this in the future: Kellie Skater leaving the ring with another title belt!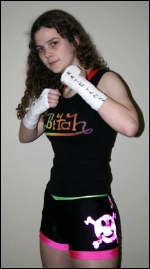 The Rate Tank
is ready to rumble!
Skater locks in a punishing camel clutch.
Kellie Skater's Stats...
Height:

5' 7"

Weight:

58 kgs

Hair:

Light brown

Eyes:

Hazel

Hometown:

Baccus Marsh, Australia
Kellie Skater's Profile...
How It Started:

I've been a wrestling fan since I was a little kid. Being a wrestler was basically the only thing I ever wanted to do. I got a pretty good break in that I met one of the other Vic women's wrestlers at a party and she could tell I was passionate...so she invited me to train with her. I started training at the end of January '07 and debuted that March in a battle royal. Some of my trainers include George "Hitman" Julio and Mike Burr/Mike Manson (Alpha).

Gimmick:

My main gimmick is being a good-sportswoman and the good girl who just wants to wrestle. I'm very friendly before/after the match but once the bell rings it's all business! I tend to be honourable, making a lot of saves and offering handshakes. That tends to get me jumped a lot...but that's okay. I can take a beating and once I'm back to my feet I'll give back as good as I got!

In QLD I wrestle as a cocky/aggressive jerk with the self-given nickname

The Rate Tank

. I believe that I am a massive tank and indestructible. Some may say I'm delusional. I definitely have a mean streak in me in QLD, always aiming to make my opponent my next victim of my submission finisher.

Wrestling Style:

Fairly hard hitting with some high flying mixed in.

Gear:

My most common gear is white boots, black shorts with fluro green and pink trim, with "skater" written across the back in fluro green/yellow/pink and the Japanese symbol meaning "To excel" written on the side. I wear white wrist tape with a written message depending on the match.

Titles Held:

Former PWWA Champion.

Biggest Win:

My biggest win would definitely be when I beat Vixsin in May '08 to capture the first PWWA Championship. It was a pretty stiff, solid match with both of us taking some big spots and giving it our all. I think the intensity was quite high as both of us just wanted to prove ourselves worthy of being the first champ for the first all-female company in Australia.

Worst Loss:

Losing a

Last Woman Standing

match to Sway. Not only did I walk out with a loss, but also with a blood-soaked body needing a few stitches in the head!

Favorite Type of Match:

My favorite type of match to participate in is a singles match because you rely on yourself to get it done and you don't have to worry about more than one person jumping you! I also quite enjoy

Falls Count Anywhere

matches, as you can take the insanity anywhere in the building.

Favorite Moves/Holds:

Reversal of sidewalk slam into a reverse DDT; superkick; flying forearm/forearms in general; springboard back elbow.

Finisher:

"Skate and Destroy"

(Yoshi Tonic/Code Red);

"Skate or Die"

(reverse Indian Deathlock submission into a bridge while locking the opponents arms in a double arm underhook and wrenching).

Biggest Allies:

The Brotherhood (Mason Childs, Mark Davis, Sorrow and Sway).

Most-Hated Enemies:

The Pink Ladies (Madison Eagles and Jessie McKay); Tenille Taylah; Vixsin.

Toughest Opponent(s):

All the girls mentioned in my enemies list are pretty tough. But I would have to say Sway in particular, due to the violent matches we have had in the past.

Career Highlight:

PWWA Title match vs. Vixsin...a good hard match. Also, my 12/2008 PWAQ match where I had a chance to wrestle Sara del Rey. Great learning opportunity with a wrestler I highly respect.

Favorite Wrestlers:

The two wrestlers I admire most would have to be Akira Hokuto and Bull Nakano. I also really admire Kyoko Inoue, Toshiyo Yamada, Aja Kong, Chigusa Nagayo and Manami Toyota (I'm a big AJW fan!)

Wrestling Ambition:

To train for, and then wrestle in, Japan.
Kellie Skater's Personal Notes...
I'm a pretty hyperactive person.....I've been playing sports since I was a little kid. I played beach volleyball for quite a few years, won a few mixed 4's premierships and best and fairest, also ended up umping for awhile.....I really enjoy hanging with my mates from inside and outside of wrestling.....I have a trained pet Lorrikeet called Laurie. He's the man!.....I also have a pet dog called Nattie, some birds out the back of the yard and evil chickens.....I'm pretty much a nerd: I like comics, video games and movies (go Rocky!).
Latest Kellie Skater News...
Watch out for the Aussies coming atchu in Sparkle/Shimmer! Aussie fans: come out and support the biggest tournament in Australia, PWAQ's "Rise of the Warriors"...watch out for Brotherhood members Skater and Sway!
Essential Kellie Skater Links...
Kellie Skater Video