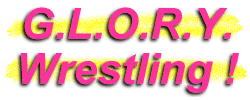 Melina Perez
Wrestler
Question: What do you get when you combine the physical abilities of a dedicated athlete, the sexy good-looks of a professional model, and the single-minded determination of an individual who is committed to reaching her goal of pro wrestling excellence? Answer: Melina Perez! This gorgeous and dedicated grappler from the high desert of the American Southwest is well on her way to pro wrestling success. Watch for Melina to appear in the ring of a major wrestling federation in the not-so-distant future.
Beautiful California wrestler and model, Melina Perez.
In the ring, Melina brings an opponent down to the mat hard and fast.
Melina was one of the final 25 wrestlers on Tough Enough 3.
Melina worked for CRUSH as Little Dear...standing here with fellow G.L.O.R.Y. Girl Valentina.
When Melina Perez is not in the ring, she can often be found modeling in front of a photographer's camera.
Melina's braided hair flies as she prepares to monkey-flip her male opponent.
Melina Perez's Stats...
Height:

5' 4"

Weight:

123

Hair:

Dark Brown

Eyes:

Brown

Hometown:

High Desert (Southwest USA)
Melina Perez's Profile...
How It Started:

Like many, I loved wrestling...but I never really thought about becoming a wrestler. I grew up active like my father, who was a boxer. I loved fitness. I continued to be active after high school and always made it a habit to train. A friend, "The Miracle" Mikey Henderson (AKA Suicide Kid), would always see me busting my butt at the gym and he told me I should get into wrestling. I love trying new things and when it comes to challenging myself physically, I'm game. I went to his school at the time, EWF School of Hard Knocks, tried it out and loved it. Some things come into to your life and you just know it's right for you. I may not have dreamed of being a wrestler since I was a child, but I KNOW this is what I am and what I will train to learn all about.

Gimmick:

Melina Perez started off as a Lara Croft-type of character, but has now evolved into a fighter eager for a challenge. More than what meets the eye, Melina loves a good fight.

Wrestling Style:

Somewhat of a High-Flyer, Technical and Brawler.

Gear:

I always wear red and black. Mostly I wear a red Fight Club boy beater with black pants or black shorts, with my kick pads. I also wear wraps...but will soon change to Vale Tudo Gloves.

Biggest Win:

Defeating Ebony Princess. She is a skilled competitor.

Worst Loss:

Against Melissa Coates when I was a victim of The Coates Rack.

Favorite Type of Match:

Mixed-tag matches. Most guys look at a girl and think it will be an easy match, but I think they shouldn't under estimate! I love to get in there and wipe that smirk off their face. Plus, I feel I get to do more in mixed matches since I also have to think more to take a guy down. I love the challenge.

Favorite Moves/Holds:

I can't name just one. I have many. The top ones though, are high kicks and anything involving bridges.

Finisher:

It varies from the KyraPractor (submission)...to the Kyranium Buster (blockbuster)...to the Divastator (kick).

Biggest Allies:

Frankie Kazarian and Krazy KC. Otherwise, I trust no one!

Most-Hated Enemies:

Anyone who challenges me in the ring.

Career Highlight:

Making it to the final 25 in Tough Enough, working with the Tough Enough trainers, and getting invited to practice with the WWE...where I had the opportunity to have a five-minute match with Molly Holly.

Favorite Wrestlers:

It's hard to pick one or a few. I admire all the female wrestlers so I can't pick one. But from the WWE male roster: Jericho, Big Poppa Pump and the most important wrestler that amazes me and ranks #1 REY MYSTERIO! That man is awesome!

Wrestling Ambition:

I want to do my personal best at becoming the best wrestler I can be. And, of course, my goal is the WWE. This is a dream that I long for and will do everything in my power to work at getting.
Melina Perez's Personal Notes...
I'm a simple person who loves the simple life and spending time with my family.....I do enjoy entertainment such as wrestling, singing, acting and modeling, but find so much gratification pushing my self physically.....I pride myself in my physical training and have also begun training in a school specializing in cage fighting, though I will only keep my sites on wrestling.....I love talking to people and motivating them on things they can do in life and how they should continue their efforts in achieving their dreams.....My favorites films are sci fi, horror and action.....Burgundy is one of my favorite colors.....My favorite sayings are: 1) "To love to be loved is human, but to love for the sake of loving is angelic." and, 2) "Of all true word of tongue or pen the saddest are these it might have been".
Essential Melina Perez Links...