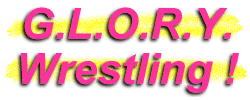 Luscious Latasha
Wrestler
Just 5' tall, this little battler is always the underdog...but that doesn't discourage her in the least. As one-half of The Soul Sistas (with fellow G.L.O.R.Y. Girl Jana), Latasha is now looking for tag team gold to accompany the singles titles that she's captured. But win or lose, chances are you're going to see a big smile on Latasha's face. She's just happy to be competing in the sport she loves!
The sexy and...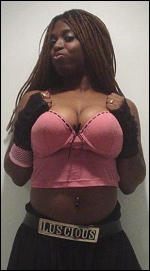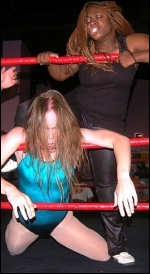 Latasha is all business as she takes Violet Flame to the ropes.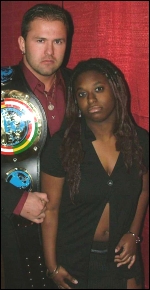 Latasha poses with the man she manages, "Mass Appeal" Jason Jailette.
Luscious Latasha's Stats...
Height:

5' 0"

Weight:

115

Hair:

Dark Brown

Eyes:

Dark Brown

Hometown:

Temptation Island
Luscious Latasha's Profile...
How It Started:

I've been watching wrestling since I was five years old. The first show I went to was back in 1997. It was a WWF Pay-Per-View and I was excited! I decided then that I wanted to become a professional wrestler. I started going to Yankee Pro Wrestling and South Coast Championship Wrestling in 2000. I started to help out around shows. Then I started training with Top Rope Promotions in September of 2003.

Gimmick:

I'm usually just the small girl underdog trying to get the win over opponents that tower over me.

Wrestling Style:

I'm still relying on all the basics and technical stuff for now. I want to get into high-flying moves later on.

Gear:

My gear is anything I feel like wearing that night. If I feel really good, I will put on a nice pair of short shorts and a lil top!

Titles Held:

Two-time SCCW Women's Champion (South Coast Championship Wrestling).

Biggest Win:

When I beat Nikki Valentine for the SCCW Women's Title the first time in New Bedford, MA in July of 2005 at "Deception". That's also the night I turned on my "friend" Vain and allied myself with "Mass Appeal" Jason Jaillet, who is now the first-ever Top Rope Promotions Heavyweight Champion!

Worst Loss:

When Nikki beat me for the championship. But now that I think about it, it's not that bad because I got it back just a couple of weeks later!

Favorite Type of Match:

Mixed Tag-Team; Singles.

Favorite Moves/Holds:

Bulldog; Reverse DDT; Cartwheel; Neck-breakers.

Finisher:

"The Luscious-Breaker"

...a swinging neckbomb (neck-breaker).

Biggest Allies:

"Mass Appeal" Jason Jailette; Amber; Jana.

Most-Hated Enemies:

Anyone that steps into the ring with me.

Toughest Opponent(s):

Toughest? Bring it on! Have not had one yet, that's for sure!

Career Highlight:

My first match in front of a packed show in Bellingham, MA. It was a handicap match where Erica Exotica and I faced Trinity H. Campbell.

Favorite Wrestlers:

Trish Stratus; Triple H; Victoria.

Wrestling Ambition:

To do what I love, for however long my body can take it. Also, to be loved by the fans and to be known nationwide. My goal is to make it to WWE...but if I don't, I would be very happy with working for people that appreciate women's wrestling.
Luscious Latasha's Personal Notes...
In my spare time, I like to go online and surf the web.....I love to go shopping.....Listening to music is another thing I enjoy very much.....I'm a happy person. If you see me, most likely I'll be laughing. I laugh a lot. What can I say? I guess I'm just a happy kid doing what she loves!
Essential Luscious Latasha Links...