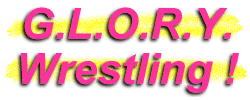 Macaela Mercedes
a.k.a. Jillian Hall
Wrestler
Don't let that sweet, sexy smile fool you. Once Macaela Mercedes (a.k.a. Jillian Hall) steps through the ropes, expect her opponent to feel some serious pain! This technically-sound, high-flying grappler used to play by the book and have legions of fans cheering her on. But all that is past history. Now, Ms. Hall shows no respect for the rules and stops at nothing to add to her quickly growing win total. This nasty lady counts success not only by the number of wins she amasses, but also by the amount of battered and broken bodies she leaves sprawled across the many rings she battles in. And now, that ruthless ring style has taken her all the way to the WWE! Jillian Hall: wrecking havoc in her quest to be the best!
Macaela Mercedes (a.k.a. Jillian Hall). [Photo: Fixated: Jillian Hall]
The athletic Ms. Hall prepares to do battle. [Photo: Fixated: Jillian Hall]
Hall seems to be having a wonderful time as she tortures Alexis Laree (a.k.a. Mickie James). [Photo: Fixated: Jillian Hall]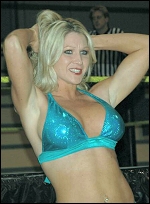 She may now be known as "The Fixer" to WWE fans, but Jillian will always be "The Original Bombshell" to the fans of G.L.O.R.Y.! [Photo: Fixated: Jillian Hall]
Macaela Mercedes' Stats...
Height:

5' 6"

Weight:

128

Hair:

Blonde

Eyes:

Blue

Hometown:

Louisville, Kentucky (USA)
Macaela Mercedes' Profile...
How It Started:

I had always told my friends in high school that I was going to be a "professional wrestler". They usually laughed at me! Well, I graduated high school and went on to college. (At that time I had quit watching wrestling to some extent...I was really busy!) In my first semester, a friend and I decided to go to a RAW on the spur of the moment. I was so overwhelmed that the next day I found a wrestling school and started that week. I then decided to put my college career on hold to do what I truly love! (Although this was the right choice for me, I would not recommend this to anyone else.)

Gimmick:

I was known as "The Bombshell" on the indies and in OVW. Since debuting in WWE, I have been known as "The Fixer", Jillian Hall. I am an image consultant that debuted with MNM and currently works with JBL.

Wrestling Style:

Technical/High-Flyer.

Gear:

I wear short shorts and a small top that shows off...well...a lot!

Titles Held:

HPW Cruiserweight Title; SWF Women's Championship; Two-time SWF Tag Team Championship (once with Tiny Tim and once with Randy Allen); WWA Women's Championship; SSW Women's Championship; Soon to be WWE Women's Champion!

Biggest Win:

I beat Mickie James in a 15-minute match on OVW TV. Check it out...this one is worth buying! I also beat Staci Keibler on Velocity.

Worst Loss:

Maybe losing to Christy Hemme two nights in a row in Italy.

Favorite Type of Match:

I enjoy most any kind of match...singles, tags, three-ways. Intergender matches are a favorite, too.

Favorite Moves/Holds:

The Fender Bender (a handstand legdrop); The Crash Test Splash (a round-off into a splash).

Finisher:

450 Splash.

Biggest Allies:

I trust no one! It's every man or woman for themselves.

Most-Hated Enemies:

Mickie James; Stacy Keibler; Christy Hemme. (And I also have a few with unfinished business on the indies!)

Career Highlight:

Everytime I step out of the WWE curtain it's a memorable moment that I will never forget.

Favorite Wrestlers:

Rick Martel. I really enjoyed his character and he was an exceptional wrestler.

Wrestling Ambition:

To become the WWE Women's Champion whether on RAW or Smackdown.
Macaela Mercedes' Personal Notes...
I was a cheerleader and took a lot of gymnastics classes growing up. I think that really helped me when it came to learning how to wrestle.....I have a wonderful family that I love to spend time with. But for the most part, wrestling consumes my life!
Essential Macaela Mercedes Links...