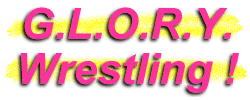 Maria Montana
Wrestler
Maria Montana looks like a sweet lil' country gal...and she is. Unless you get on her bad side and cause her temper to kick up. Then all bets are off as this lil' country gal turns into a wild, rip-snortin', ring filly! Although well-versed in technical wrestling, Maria is not afraid to toss aside the rules and fight fire with fire if her opponent decides to play dirty. This country girl is just as capable at using a hairpull or a chokehold as she is in applying her trademark back breaking, boston crab submission. Maria Montana is one lady who proves that there's a place in the pro ranks for old-school style over new-school glitz!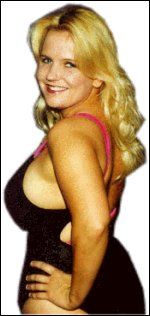 Maria Montana is one country gal who knows how to scuffle with the best of them!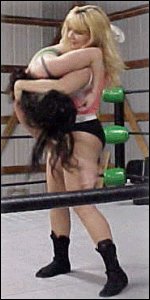 Maria shows her power as she easily scoops up Sweet Destiny up for a hard bodyslam.
The blonde battler has Lady Vendetta screaming in agony with a backbreaking boston crab.
Maria Montana's Stats...
Height:

5' 6

Weight:

160

Hair:

Blonde

Eyes:

Blue
Maria Montana's Profile...
How It Started:

I got started in submission wrestling for WCSSW. Soon after, I had the opportunity to turn to pro wrestling. I thought that would be neat to try, so I started training at Harley Race's school. About a week before my first show with them I quit. I felt like I had joined boot camp! But I did NOT quit wrestling. Instead, I trained with Candy Divine and South Broadway out of St. Louis. It wasn't long before I had my first pro match with the PGWA. Now it just in my blood. Once you start in this business, you can't stop. I love it!

Gimmick:

Maria Montana is just a good country girl. Kinda shy and sweet...but she can have a bad temper.

Wrestling Style:

I consider myself a power wrestler. I try to play by the rules, but I'll break them if my opponent forces me to.

Gear:

Nothing in particular. I am just as comfortable wrestling in cut-off jeans as I am in regulation pro wrestling tights. It just depends on my mood.

Titles Held:

None yet, but I think I'll have one real soon.

Biggest Win:

Defeating Leilani Kai and Amber Holly. I consider both to be big wins.

Worst Loss:

Shelby Beach.

Favorite Type of Match:

No-holds-barred!

Favorite Moves/Holds:

Chokehold.

Finisher:

I'd rather surprise my opponent with it than tip them off about it here.

Biggest Allies:

Sweet Destiny. She introduced me to pro style.

Most-Hated Enemies:

Amber Holly. That girl just doesn't know when to quit!

Favorite Wrestlers:

Sweet Destiny.

Wrestling Ambition:

I don't think I'll ever be famous, but I hope a lot wrestling fans get to know my name. I want to be one of the best before I'm done.
Maria Montana's Personal Notes...
I grew up in a small town.....My favorite band is CDB and my favorite singer is Loretta Lynne.....I have two horses, three dogs and a cat..... My local fellow wrestlers belong to ACW.....When I'm not wrestling or training, I like to play pool, dance or head to a movie.....I also like to get out to see comedians whenever I can. (My favorites are usually rodeo clowns.).....I also like to ride motorcycles and ski boats.
Essential Maria Montana Links...