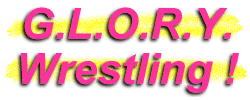 Misty James
a.k.a. Queen of Kingsport, Tennessee
Wrestler
Tall, blonde and beautiful, Misty James took an unusual route to the wrestling ring. The former high school All-American athlete certainly had the physical attributes to compete in the ring. Still, she was content to simply watch and enjoy the local wrestling shows as a fan sitting at ringside. But then after teaming-up with her wrestler husband, Beau James, as a last minute fill-in during a mixed tag match, she was hooked! Now Misty is one of the top prospects on the Mid-South women's indy scene. You can expect a big future for this sexy ring dazzler!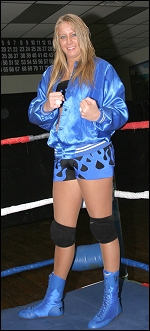 Beautiful Tennessee wrestler, Misty James!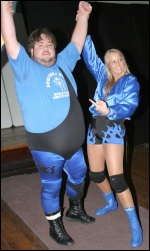 Misty is always at the side of her husband and main ally, Beau James.
Misty tries to muffle the jeers of the crowd.
Ms. James mixes it up with veteran Tasha Simone.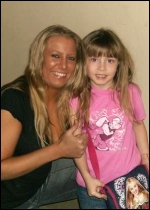 Misty poses for a picture with one of her young fans.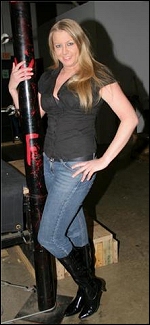 Casual Misty.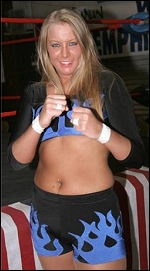 Ready to fight!
Misty James' Stats...
Height:

5' 9"

Weight:

145

Hair:

Blonde

Eyes:

Blue

Hometown:

Fall Branch/Kingsport, Tennessee (USA)
Misty James' Profile...
How It Started:

My step dad was a referee and an announcer. We were always at the matches when I was a kid. When I was 13 I met a wrestler named Beau James. I was in love! But he never would even look my way. Years later, I went to the matches with my sister and I guess Beau liked the grown-up Misty! We have been together since that day.

My first time ever in the ring was Thanksgiving Night 2006 when I married Beau after the matches.

In the summer of 2007, Beau's long-time friend and promoter James Hines was promoting matches at a North Carolina fair with a couple of girls booked. Three days before the event, they canceled. We could not find any girls that were available to fill-in. Mr. Hines said:

"Your wife is booked...get another girl."

Beau was against that idea. He didn't want me involved in wrestling. Mr. Hines told him that we had a contract with the fair and that a women's match was promised. So next thing I know, I'm a pro wrestler! But once I was in the ring I was hooked. We had a mixed-tag and the next day I started training full-time. I NEVER thought I would ever be a wrestler. I never really had the desire. But funny things happen.

I also would like to say this: Wrestling is the hardest thing I have ever done. It is nothing like people think! I was an All American softball player in High School. I was voted by coaches the outfielder of the year in all of Virginia my senior year. I had also played basketball and track. I thought wrestling can't be that hard. WAS I wrong. In wrestling you use every part of your body including your mind in ways you would never in other sports.

When I told Beau I wanted to be a full time wrestler, he was against it. After I convinced him, he said:

"OK...but no favoritism. You have to be treated just like the rest. If I'm easy on you everyone will hate you."

So the first day I got in the ring with my husband I was thinking he would say:

"Walk through this, grab like this, do this..."

NOPE. He grabbed me, took me to the mat, and tied me in a knot! I broke my ankle the first day. But after I got off the crutches I went right back into the ring.

Wrestling is my love now. Along with wrestling, Beau and I also promote towns, produce a weekly TV program and everything else involved in day to day operations of a wrestling promotion.

Wrestling Style:

Classic.

Gear:

I mostly wear black and blue, to match my boots.

Titles Held:

SSW Rookie of The Year; Southern States Ladies Champion.

Biggest Win:

Beating Rebecca Lynn in Oct. 2009 in Chapmanville, WV to win the Southern States Ladies Title.

Worst Loss:

Not sure. I guess all hurt. But I take them as a lesson learned.

Favorite Type of Match:

I like singles and mixed-tags with my husband, Beau James.

Favorite Moves/Holds:

I don't really have a favorite. But I do like the old-time holds you don't see much anymore.

Finisher:

I use the bulldog and cross body off the top rope a lot.

Biggest Allies:

My husband, Beau James; my fans that come out and support me.

Most-Hated Enemies:

Rebecca Lynn; Jamie Gibson; Rock-N-Roll Rock C; Nicole Star.

Toughest Opponent(s):

Tasha Simone.

Career Highlight:

Being on TV. I never thought I would be on TV!

Favorite Wrestlers:

I rarely watch WWE or TNA. My favorites come from my childhood. I loved Dusty Rhodes and Jimmy Valiant. Favorite women are Sherri Martel and Debbie Combs. Now I would have to include my husband Beau James!

Wrestling Ambition:

To continue what I am doing and get better at it...without getting hurt too badly!
Misty James' Personal Notes...
I was born and raised in a small town in Virginia and now live in a small town in Tennessee. I'm a country girl at heart!.....I played softball in high school and was All-State outfielder four times. In 1998, my senior year, I was an All-American.....Bet you didn't know that I'm a certified chef. Are you hungry?!.....I love to travel. Before I ever started wrestling, I went with Beau to events. We crossed the U.S. four times in three years. I love the Rocky Mountains.....Beau and I are very active in our church....I am a HUGE Virginia Tech, Chicago Cubs and Tennessee Titans fan.....I enjoy classic country music, going to Nashville and hanging on Broadway.....I also love Memphis, Seattle, Denver and all of Idaho.
Essential Misty James Links...
Misty James Video