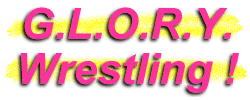 Roxi
Wrestler
Roxi is just at the beginning of her wrestling career, but this UK grappler is looking to make it straight to the top! This sexy, rule-abiding wrestler has proven that she can hold her own in the ring against most opponents. Bending or breaking the rules is just not in this lady's nature...but she can more than hold her own using her technical and submission mat skills. With just a little more experience, Roxi just may be the lady to beat on the UK women's wrestling scene!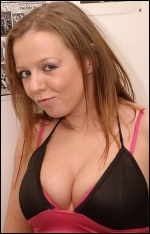 UK wrestler Roxi!
Roxi shows off some gold.
Tiny, daring tops seem to be Roxi's gear of choice.
A big smile from Roxi!
Roxi's Stats...
Height:

5' 2"

Weight:

8 stone

Hair:

Brown

Eyes:

Bluey-Green

Hometown:

Leigh, Lancashire (UK)
Roxi's Profile...
How It Started:

I was always interested in wrestling as a child but never thought that it was popular over here in England. However, when I was on work experience in High School my boss told me he was a ring announcer for a local promotion. From there I've trained ever since!

Gimmick:

I'm a bit of a happy, smiley, goody-two-shoes really. No cheating, no dirty business...just nice innocent little Roxi!

Wrestling Style:

Technical and submission wrestling mostly. I like to be very mat based. I'm slowly learning to put some power moves into the mix, but I'm most advanced in technical work.

Gear:

Long tights and tiny tops.

Biggest Win:

Against Pippa L'vinn. She's a hell of an opponent...getting a win over her is certainly a good one!

Worst Loss:

Againts Minx...that cheating little so-and-so just won't let me get a win!

Favorite Type of Match:

Straight one-on-one singles matches.

Favorite Moves/Holds:

Indian Death Lock; Japanese Strangle; Octopus Hold.

Finisher:

Swinging neckbraker; stunner.

Biggest Allies:

TJ Cain; Elroy Doogle; WKD.

Most-Hated Enemies:

Minx; Lisa Fury; Pippa L'vinn; Jenidee.

Toughest Opponent(s):

Pippa L'vinn. She knows everything there is to know about wrestling and it's hard to get the pin against her.

Career Highlight:

Wrestling at Butlins Holiday Camps...they never disappoint.

Favorite Wrestlers:

Pippa L'vinn; Lacey; Rey Mysterio; Jonny Storm.

Wrestling Ambition:

I'd love to travel abroad with my wrestling. I've wrestled in many places in the UK, but I would love to wrestle people in as many different countries as possible.
Roxi's Personal Notes...
Well, I work full time as a Legal Secretary in a solicitors.....In my spare time I love to work out. I go the gym as often as possible.....When I'm not at the gym, I'm often shopping with friends or going to Bingo with my mum!.....I'm into all kinds of music. I love pop music and all the old cheesy stuff.....I enjoy dancing. I used to dance as a child but now I just bust my moves in nightclubs!.....My other hobbies include swimming, reading and watching television.