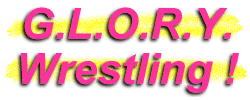 Roxie Cotton
Wrestler
She's like, sooo totally all about the 80's! Roxie Cotton may be an East Coast-based wrestler now, but her heart is still back home in Encino Valley, California. She's determined to win a wrestling championship one of these days...but only if the title belt matches one of her outfits! We asked if that attitude might be a bit of a detriment to her career, not to mention being somewhat shallow. Her response? "Like, W-H-A-T-E-V-E-R! You sooo don't know what's really important, fer sure!" Keep your eye on the tough, up-and-coming Roxie Cotton...even if she is lost in the 80's!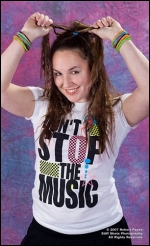 Roxie Cotton is like, sooo totally 80's!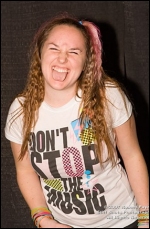 Sometimes Roxie just loves to cut-loose for the camera!
Give this girl the mic, and she just might, like, sooo talk for hours!
Roxie may act a little kooky sometimes, but she's not afraid to get hardcore.
Sometimes things don't always go right during a match!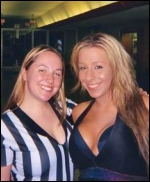 Roxie and fellow G.L.O.R.Y. Girl Alicia.
Roxie Cotton's Stats...
Height:

5' 2"

Weight:

123

Hair:

Brown with blonde highlights 'n red lowlights.

Eyes:

Hazel

Hometown:

Encino Valley, California (USA)...but in Bensalem, Pennsylvania for now.
Roxie Cotton's Profile...
How It Started:

I like,

always

watched wrestling with my daddy growing up. I loved to wrestle the boys on my block (I was totally such a tomboy). Then I saw

"The Unreal Story of Pro Wrestling"

where they said Moolah had a school. So I said, "I'll go online and find it". But, like, I never did find it! But...like ohmigod!...I did find out that JAPW had a school, so I went. When I was growing up I knew there were some indy wrestling companies around, but I never realized how many 'til I started wrestling.

Gimmick:

I'm like, a Valley Girl from Cali...totally straight out of the 80's. I'm so sure!

Wrestling Style:

I like, try to wrestle in any style (of clothes). It like, totally depends on who I'm like, wrestling and like, of course, the crowd and stuff. I try to mix things up, like you know, keep people guessing. Like, fer sure.

Gear:

T-shirt that says "I'm like so Eighties". And this bitchin' pink skirt with like, black polka dots. And these rad pink leg warmers!

Titles Held:

None yet. But I'm looking to win one that totally matches my outfit.

Biggest Win:

Well I

totally won

this battle royal thing, and like, I was so the only girl!

Worst Loss:

Any loss is like, THE WORST! So I try not to lose.

Favorite Type of Match:

Like, anything that involves me! lol. I don't mind intergender matches. Like...can I pick the guy?

Favorite Moves/Holds:

"Rolling Rox"

(Molly-Go-Round).

Finisher:

"Cotton Mouth"

(Crippler Crossface).

Biggest Allies:

Amy Lee, Jackyl, Missy Sampson, Don Montoya, Sneaky Silver Bullets, Silver Bullet Girl, Motley Mike Notar, Tom Brandi, and of course I can never forget Z-Barr.

Most-Hated Enemies:

Umm...I don't think I have enemies. Like, if I do, I like, don't really care.

Toughest Opponent(s):

Simply Luscious. She is like, soooo amazing!

Career Highlight:

Well, Micky James did pin me before she was, like, Micky James! And I was like the only girl in an 8-man gauntlet match for the cruiser-weight belt once.

Favorite Wrestlers:

Undertaker; Chris Jerico; Molly Holly; Reckless Youth; Tom Carter; Don Montoya; Z-Barr; Jackyl; Simply Luscious; Micky James.

Wrestling Ambition:

If I'm wrestling, I'm happy. But like, I wouldn't mind going to WWE and making tons of money. I'd like,

really

love to wrestle in Mexico and Japan. That would be like, "Ohmigod!", you know?! I can dream!
Roxie Cotton's Personal Notes...
OK. So, I'm like, a wrestler. But like, I also manage Jackyl and Christopher Robbins (no NOT the boy from Winnie The Pooh!). And I ref, if needed. I would totally like to just wrestle. But any reason to buy a new outfit, I'm like, sooo all for it!.....So I was originally trained at JAPW, then PWU. Now I'm training with Don Montoya. I'm like, always trying to learn something new. I do however get very motion sickness when I wrestle! If I don't take Dramamine (motion sickness pills) I'll, like, throw up. Ew...GROSS! I have thrown up three times in one training class. But that like sooo won't stop me. Well, the fact that I get sick so easy was some of the basis of my first gimmick, if anyone remembers "Fever". If you don't, it's ok. It was a stupid gimmick and it like, wasn't me at all. I just did what people told me. I'm like, so much better now. I'm so sure!.....Well, I don't have any pets. I don't want to take care of them. Plus, they get hair on like, everything and like, I can't have that, you know?!.....I'm not married and no kids. Not yet, anyway. I like, have so much wrestling to do first!.....I just got a Myspace and I'm still trying to work it!
Essential Roxie Cotton Links...
Roxie Cotton Video