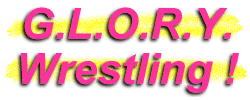 Sabrina Kyle
Wrestler
Sabrina Kyle is fast becoming one of the most-recognized ladies on the burgeoning Ontario women's wrestling scene...especially with those huge, eye-catching bell-bottom pants that she's so fond of wearing to the ring. Kyle has not only mixed it up with the likes of Sara del Rey, Deanna Conda and other Canadian grappling vets, she's held her own against them!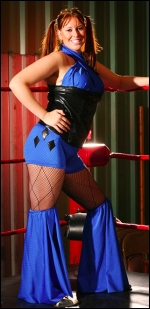 Sabrina Kyle!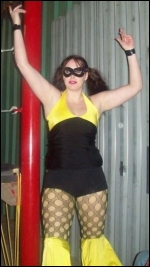 A super hero comes to the ring!
Sabrina isn't afraid to step into the ring with the guys...and she's laying a pretty good hurtin' on this one!
When she's not in the ring, sexy Sabrina Kyle is probably on a modeling shoot like this one.
Sabrina Kyle's Stats...
Height:

5' 8"

Weight:

140

Hair:

Brown

Eyes:

Brown

Hometown:

The pages of an unknown comic book...
Sabrina Kyle's Profile...
How It Started:

Believe it or not, I decided I wanted to be a professional wrestler when I was about 12 years old. A few years later, I met a guy at an internet cafe who was training to be a pro wrestler and he said he would take me to the gym so that I could watch. As soon as I got there I signed up.

Gimmick:

I am a cute, super-nerdy batman fan!

Wrestling Style:

Technical, old school.

Gear:

Huge bells with my favourite super hero's logo.

Biggest Win:

My win in an NSW women's four-way match (for a chance at the women's title) against Jules, Sara del Rey and Deanna Conda.

Worst Loss:

Any loss is bad!

Favorite Type of Match:

One-on-one singles match.

Favorite Moves/Holds:

Camel clutch; flying headscissors; Yakuza kick; running knee; table top leg drop.

Finisher:

"The Last Laugh" (Kamikaze); "KAPOW" (Reverse Indian Death Lock with a bridge).

Biggest Allies:

Batman?

Most-Hated Enemies:

Jodi D'Milo; Rip Impact.

Toughest Opponent(s):

Portia Perez; Sara del Rey; Krystal Banks.

Career Highlight:

Working for AWWL's fight network tapings.

Favorite Wrestlers:

Trish Sratus; Gangrel; Brett Hart; Edge.

Wrestling Ambition:

To be the best I can be and learn as much as I can.
Sabrina Kyle's Personal Notes...
I have a dog named Harley Quinn and two cats named Sunshine and Gizmo.....I am a huge Batman fan and I love Harley Quinn. I have a tattoo of Harley on my right ankle.....I model when I'm not wrestling.....My favourite singer is Michael Jackson (R.I.P.) and my favourite actor is Jack Nicholson.....I love horror movies, especially the Child's Play series.....I have a ridiculous amount of penguin stuff!.....I love COD 5 and Rock Band.....I am basically a huge nerd. : )
Essential Sabrina Kyle Links...
Sabrina Kyle Video