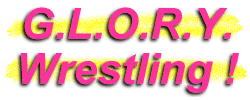 Sasha
Manager
Coming from the rough and tumble outskirts of Baltimore, Maryland, Sasha is as tough as she is gorgeous. And this blonde beauty is using that toughness--along with her intellect and incredible good looks--to help steer herself and her main man, Brock Singleton, to the top of the Mid-Atlantic indy scene. Sasha is a former fitness trainer who is also a force to be reckoned with at ringside. Whether this stunning lady is out-thinking her opponents...or out-wrestling them...she always has the attention of the crowd. Watch for Sasha to quickly become one of the elite managers on the scene today.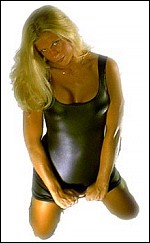 Sasha could obviously model as well as manage!
The former fitness trainer shows-off her figure.
Sasha's in a playful mood during a shoot!
Sasha's Stats...
Height:

5' 10"

Weight:

A lady NEVER tells!

Hair:

NATURAL Blonde

Eyes:

Green

Hometown:

Baltimore, Maryland (USA)
Sasha's Profile...
Gimmick:

Sasha is a "down to business" girl. I demand focus and quality wrestling from whomever I am managing. I started out as more of a physical trainer, but through time I have grown to love the attention I get from the crowd as well. I spend much of my time in the gym...knowing that guys appreciate a well-toned body. I do everything to keep my guy focused and if need be, I will get involved to help my man win...especially if it means countering a cheating opponent. Initially I mostly managed, but I have been stepping out a bit and competing in the ring more.

Outfit/Costume:

I've been at ringside in anything from workout clothes to a slinky little dress.

Manager Of:

Brock Singleton mainly, but also any independent work offered.

Have Managed:

Matt Vandel; Tag team of Brock Singleton and Zubov; Tag team of Brock & Mason Hunter.

Biggest Allies:

Brock Singleton, Zubov, Mason Hunter, Matt Vandel and anyone else that helps me when I need it.

Most-Hated Enemies:

I don't have enemies...only opponents.

Career Highlight:

Training with Dawn Marie (What an inspiration!); Working against Luna; A crowd stopping show that happened one night in Morgantown, WV.

Favorite Wrestlers:

Any guy that is ripped and oiled up. The yummier the better! Of course, I like talent and skill in the ring also.

Wrestling Ambition:

To go as far with wrestling as I can and to keep the injury list short. Thus far I have not done a good job with this as the list continues to grow. Oh well...you only live once, right?
Sasha's Personal Notes...
At this point in my life, I have endured 22 years of formal education. Yep you got it: this bod and brains, too!.....I work out approximately five days a week and that is my favorite time of the day. I leave all else behind and get to focus on just me!....As far as my "Favorites List"...Movies: Silence Of The Lambs, Godfather Trilogy, Stir of Echoes, Red Dragon, Pretty Woman; Color: Blue or Black; Car: There is no substitute for my truck!; Food: Any! I am always hungry!.....I love wrestling and hope to continue for as long as I can.....I want to thank everybody that pushed me to start training and the support my family and friends continue to give me. Mainly thank you to the fans because without you, there is no wrestling or no Sasha. I love to hear from all of the wrestling fans out there! Feel free to drop me an email anytime at sashascorner@hotmail.com.