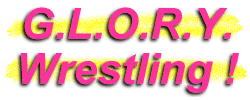 Shazza McKenzie
Wrestler
Who's the beautiful, blonde, happy-go-lucky wrestler making her way to the ring? Well, if you're at an Australian wrestling event it's most likely the perky and bubbly Shazza McKenzie! The flexible, high-flying McKenzie has been making a big impression on fans of the burgeoning Aussie women's wrestling scene. Seems that the fans down under can't get enough of the vivacious ring performer...and now North American and European fans are looking forward to seeing more of this lady in their own arenas. Shazza McKenzie: ready to breakout across wrestling rings world-wide!
Colorful and cute: Shazza McKenzie!
Shazza leaps for joy as she enters the arena.
Shazza with her main man, Bluey Bonza.
McKenzie and Skater slug it out!
Two pretty Aussie "Mc's": Jessie McKay and Shazza McKenzie.
Shazza McKenzie's Stats...
Height:

161cm (5' 3")

Weight:

58kg (125 lbs.)

Hair:

Blonde

Eyes:

Blue

Hometown:

Sydney (AUS)
Shazza McKenzie's Profile...
How It Started:

I started watching wrestling when I was sixteen. I was drawn in by Trish Stratus' mix of toughness and sexiness. From the first time I watched it, I knew wrestling was what I wanted to do. So as soon as I had enough money I joined the local wrestling school and that's how it started. Not that interesting huh?

Gimmick:

I am proud to be Australian. I wear my green and gold, loud and proud! I'm very happy-go-lucky. Some might say I'm a little bit of a bimbo...but most people love me for it.

Wrestling Style:

I wouldn't say I'm a high-flier, but my style does have a fun, exciting, unpredictable side to it.

Gear:

Usually I wear my little green and gold cheerleader-ish outfit. However, I have other gear if the occasion calls for it.

Titles Held:

ICW Women's Championship.

Biggest Win:

Probably the night I won the ICW Women's Championship, defeating my arch enemy Allison Wonderland.

Worst Loss:

I don't consider my losses bad. It's just more motivation to try harder next time! : )

Favorite Type of Match:

Singles matches. Nothing better than beating someone all by yourself!

Favorite Moves/Holds:

I like to use various headscissors/hurricanranas, wheelbarrow combinations, my flexibility to dodge my opponent's attacks and lots of neckbreakers to wear down my opponent's head and neck for my finishing maneuvers.

Finisher:

I use an overdrive which I call my

"Shazzadriver"

as well as a run up bulldog which I don't have a name for yet. And who could forget my split-legged leg drop known as

"The Whorgasm"

?

Biggest Allies:

Bluey Bonza, who is the apple of my eye!

Most-Hated Enemies:

Alison Wonderland; Aurora;

The Pink Ladies

(Madison Eagles & Jessie McKay).

Toughest Opponent(s):

Everyone. I never like to underestimate my opponents. However, maybe

The Pink Ladies

take the cake since even in a singles match you're still fighting both of them!

Career Highlight:

Competing for the first-ever

Queen Of The Warriors

trophy (even if I did lose in the first round). Also, wrestling at AWF's ten year anniversary show,

PsychoticSlam

.

Favorite Wrestlers:

Brock Lesner is my favourite. I loved everything about him...although I haven't gone back and watched any of his matches since I started wrestling as I'm sure it'll ruin it for me, hehe. I like to hold onto that one thing because everything else gets shattered when you start in this business.

Wrestling Ambition:

I don't really have a goal. I just want to go as far as I possibly can with it. I want to know that I gave it my best shot. I don't want to look back years from now and realize there's more I could've done to try to succeed. I just want to wrestle!
Shazza McKenzie's Personal Notes...
I'm a massive geek!.....I laugh at my own jokes when no one else does.....I dance for no reason because you don't NEED a reason to dance!.....I'm a tomboy, but I love getting overly dressed up every now and then.....Oh, and finally, Stephen Colbert is my god!
Essential Shazza McKenzie Links...