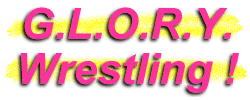 Skarlett
Wrestler
How do you explain a woman like Skarlett? The UK wrestler certainly has a unique look...scary some might say. But under all the black gear, tattoos, torn fishnets and bright red hair, this gothic grappler has plenty of heart and a determination to be the best. And guess what? The UK fans are behind her all the way! Watch for big things from the high-flying Skarlett.
The fascinating Skarlett!
Skarlett and her partner, The Dominator.
Skarlett is ready to fight.
Skarlett puts the boots to her opponent.
Study in contrasts: Skarlett and a young fan.
Skarlett launches from the top rope.
Skarlett's Stats...
Height:

5' 7"

Weight:

120

Hair:

Poppy Red

Eyes:

Green

Hometown:

Hellmouth Province (UK)
Skarlett's Profile...
How It Started:

As a youngster I was somewhat a tomboy. I wanted to do what the boys did, and I wanted to do it better, harder and faster. I was always really taken with wrestling since a young age. I used to watch whatever wrestling was on TV, whether it British, American, Mexican...it didn't matter to me. I was fascinated with all the different styles. But nothing can ever beat going to see a wrestling show live. WWE or independent, I loved it! So years later you can imagine that I jumped at the chance of going to a training session and trying it out myself. A friend and fellow woman wrestler, Chrissy Valentine, got me involved and I have never looked back.

Gimmick:

There is more to Skarlett than red hair dye and goth make up. She prefers the spookier things in life. She is a woman on a mission. Although the road she tends to tread is a dark one, she has a heart of gold and loyalty unmatched.

Wrestling Style:

Unpredictable. I'm fast and I'm a risk taker. I'd rather hit the top rope than tie up with someone...but that doesn't mean I can't! I like to keep opponents on their toes with a barrage of offense from all angles. And I have never taken anyone out if I felt they didn't deserve to hurt.

Gear:

Black, black and more black! (Well, maybe some red if I feel like it.) PVC, fishnets, lace, torn and distressed...I look a little scary sometimes, I guess. I wont go into battle without my war paint or voodoo doll, Moira. And you will never see me do pink and fluffy, or pretty and sparkly...but that doesn't mean I'm not a good guy at heart!

Titles Held:

None...YET.

Biggest Win:

Beating UK male star Marty Scurll at Extreme World Wrestling and not only ending his undefeated streak, but earning the moniker "The Queen Of Extreme".

Worst Loss:

Probably the time I was expecting an easy match against a masked opponent, but it turned out to be top UK star Jetta who was under the mask! I didn't feel too smart after that one.

Favorite Type of Match:

I really do love a good stipulation! Hardcore, falls count anywhere, anything goes...they're all favorites. Except catfighting or bra and panties matches. It's gratuitous and NOT wrestling. I leave that rubbish for divas. I also have a love for intergender matches because cracking skulls with my partner, The Dominator, is one of my favourite things to do!

Favorite Moves/Holds:

"The Desecrator"

(axe kick);

"Skarlettcunrana"

(top rope walk, huracunrana, headscissors pin combo);

"Skarlett Thunder"

(flip senton splash);

"The Demonizer"

(DDT); top rope plancha; spear; spinning neck breaker.

Finisher:

"The Gravedigger"

(modified tourture rack into Widows Peak);

"Skarlett's Web"

(inverted STF).

Biggest Allies:

The Dominator; Moira The Voodoo Doll.

Most-Hated Enemies:

Jetta; Lucy Clayden; Chrissy Valentine; Marty Scurll.

Toughest Opponent(s):

Jetta and Marty Scurll, for different reasons. Jetta is pretty much the best British lady wrestler right now and she is always tall order to beat. We have feuded for a while now. Sure I've got some wins over her, but she just keeps on coming relentlessly. Marty was easily the most naturally talented wrestler I've fought and he tied me up maybe a little too easily at times.

Career Highlight:

Making my debuts on Chickfight and EWW. Defeating Marty Scurll. Appearing On the EWW Hardcore Tour '09 alongside hardcore legend Raven and Scotty Too Hotty.

Favorite Wrestlers:

My trainer and partner, UK veteran The Dominator; Cheerleader Melissa; Klondyke Kate; Molly Holly; The Undertaker; Christopher Daniels.

Wrestling Ambition:

I just like to take things as they come. Things happen when they happen. I'd love to just keep on progressing and entertaining.
Skarlett's Personal Notes...
I love horror movies and I'm a massive fan of Metal.....My favourite band in the world is Black Label Society.....I'm secretly addicted to Lego Batman and Mario Party 8 on the Nintendo Wii.....I've got two pets (three if you include my husband!). Evo, an English bull terrier, and Pumpkin, who is a hamster with designs on lucha libre. Seriously...she takes better bumps than I do!
Essential Skarlett Links...
Skarlett Video