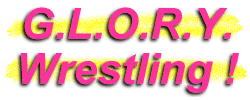 Sonya Blackhawk
Wrestler
Never mind that Sonya Blackhawk is a relative newcomer to the squared circle. Forget that she's still in her teens. Don't worry that she's not a big, powerful grappler. All that doesn't matter when you have a lot of desire or tons of heart! And young Miss Blackhawk has both! This fiery, red-haired wrestler has been getting attention across the Midwest. Although still early in her career, Sonya has been impressing the fans and promoters who have seen her in action with a ring presence that immediately demands attention. In fact, some wrestlers and fans who have met her claim that this newcomer has a bit of cockiness about her. Others disagree and say that the rookie is merely very confident in her ring abilities. But the one thing everyone can agree upon is Sonya Blackhawk's promising future in the ring.
Sonya Blackhawk's pleasant smile outside the ring disappears once she hits the mat.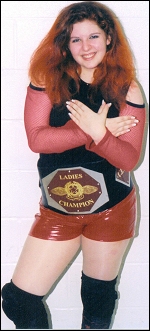 Sporty, young, and enthusiastic, Sonya has what it takes to win over the fans who see her in action.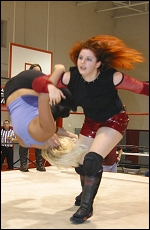 A nice hiptoss by Ms. Blackhawk on Allie Spirit.
Sonya Blackhawk has the determination to absorb punishment as well as dish it out. Despite the pain of this Charley Boy camel clutch, the youngster refuses to submit!
Sonya will take on any challenge. Here, she steps into the ring against the much bigger...and much nastier... ring veteran, Diane Von Hoffman.
Sonya Blackhawk's Stats...
Height:

5' 2"

Weight:

134

Hair:

Bright red...orange when faded!

Eyes:

Green

Hometown:

Terre Haute, Indian (USA)
Sonya Blackhawk's Profile...
How It Started:

My mother's friend from work told us about a wrestling training school he attended. Since my brother and I always shared a dream of being a wrestler, we asked to check it out. We went over to the NWC training school in Olney, IL and we were hooked on the first visit. I knew I'd be able to do the workouts, so I asked to sign up!

Gimmick:

Sonya Blackhawk is CIW Indy's "Sweetheart". She's a nice little girl who goes by the rules (most of the time). She's a teenager who is determined in and out of the ring. She's always up for a challenge!

Wrestling Style:

Technical, submission, high-flying and, of course, super-face, rule-follower!

Gear:

Here we go, from head to toe: Of course as I sport my bright red hair dye, I'm wearing a black shirt with red mesh long sleeves. The shoulders of the shirt have been cut out. I ditched the pants and came up with a pair of shiny red shorts. I wear black knee pads and elbow pads, black kickpads with my Blackhawk logo near the top, and a pair of wrestling shoes.

Titles Held:

CIW Indy's Ladies' Championship.

Biggest Win:

Over Charley Boy, Allie Spirit and Hailey in Greenfield, IN. That was the night I won my very first title.

Worst Loss:

To Macaela Mercedes in West Paterson, NJ. It was a "No DQ Match" and she took me all over the place. But as soon as I began a comeback in the end, she hit me with the CIW Indy belt and got the 1-2-3.

Favorite Type of Match:

Simple singles matches. While tag team matches are fun, I think singles matches are easier.

Favorite Moves/Holds:

"The Black Talon": This move begins in a full nelson, then I spin my opponent around into the position for a reverse DDT...but instead of just dropping them, I jump up and swing both legs around. My right lands across their chest as I drive them into the mat.

Finisher:

Once again, "The Black Talon".

Biggest Allies:

My brother, Simon Blackhawk; Allie Spirit; Whipme Spearz.

Most-Hated Enemies:

Charley Boy.

Career Highlight:

When I won my first title in Greenfield, IN against Charley Boy, Allie Spirit and Hailey.

Favorite Wrestlers:

Lita; Jeff Hardy.

Wrestling Ambition:

I'm not really sure where I want to go with this yet. All I know is that I do want it to be a part of my life (like it is now) and I know I can make a career out of it if I try hard enough!
Sonya Blackhawk's Personal Notes...
I'm very much into music. My favorites are Kiss, Linkin Park and Metallica.....I'm also addicted to talking on the telephone and chatting with friends online.....I've got a cat named "Stinky".....Every year in October, I help out at a charity Haunted House near my home.....I plan on going to college for forensic science and psychology.....For now, I'm enjoying being in two schools: high school and the school of hard knocks!
Essential Sonya Blackhawk Links...