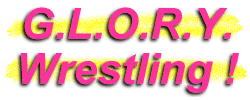 Tiana Ringer
Wrestler
Currently working out of Ontario, Canada, sexy Tiana Ringer is blazing her way up the North American women's wresting rankings with each and every match she works. Ms. Ringer is well-versed in technical wrestling as well as lucha libre-style...but don't be surprised to see this ring beauty stoop to cheating and cheap shots if she needs to bring a win home. Tiana Ringer will do whatever it takes to build her record and bring her closer to her ultimate goal: the WWE Women's Title!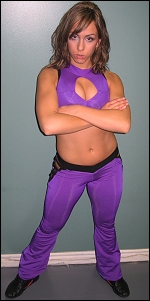 The beautiful Tiana Ringer takes her wrestling seriously.
Ringer taunts Allison Danger as she smashes her into the corner turnbuckle.
Sexy Tiana!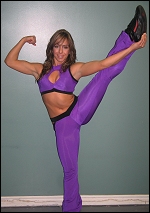 Tiana Ringer's flexibility, dance training and ballet expertise give her an edge in the ring.
Tiana (in white) suffers as her arm is wrenched hard during a recent match.
Tiana Ringer's Stats...
Height:

5' 4"

Weight:

127

Hair:

Naturally brown...right now with blonde highlights

Eyes:

Brown...with yellow and green in sunlight.

Hometown:

South Palm Beach, Florida (USA)
Tiana Ringer's Profile...
How It Started:

I think it's a pretty interesting story...but aren't they all? It all started around 1994 when my brothers started getting into Chris Jericho and the WCW scene. (They weren't fans of the WWF and being the younger sister, neither was I!) I have three brothers all fairly close in age, so we grew up beating the living hell out of each other whenever we got the chance and practicing the figure-four on whoever we decided to gang up on at the time. From there it grew. I loved to fight. In high school I joined the amateur wrestling team...competing for two years, winning four gold medals and qualifying for Provincials. But I never attended for fear of putting my dance career in jeopardy (that's right, I'm a ballerina too!). My boyfriend at the time was heavily into wrestling, so I watched religiously every Monday night at 9:00pm, rekindling my urge to fight. I should mention here that I worked as a hostess at a restaurant where every weekend I had to reserve a table for 16 people: all pro wrestlers...which I thought was pretty cool. I actually knew pro wrestlers! After graduating high school, I needed something to do. I studied Muay Thai but that just wasn't cutting it. My mom (a personal trainer) had a client who she trained on a regular basis who ended up being the fiance of Rob El Fuego...and he was the guy that made those reservations from when I worked at the restaraunt! One thing lead to another and after walking the top ropes the first day of class, I was hooked and never looked back since. New ambition: Professional Wrestler!

Wrestling Style:

I am trained in technical mat wrestling and mexican lucha libre style wrestling. What do I stick to? What I feel is going to get the job done effectively...cheating is not out of the question.

Gear:

There are so many! What can I say...I'm a girl and I like clothes. Most recently, a sexy two-piece (pants and a crop-style top). I love playing with colours, you will never see me in two distinct colours yet. I'm still trying to find what they are. My favourite colours are red with black. I have sported many one-piece outfits, including the "Angel of Death" outfit: a white one-piece with white boots...basically I'm decked out in white. Many of my gimmicks are one-pieces and I try to get creative with them and do something different.

Titles Held:

NVPW Women's Champ.

Biggest Win:

Every time I get the three count!

Worst Loss:

Any and every match against SHANTELLE TAYLOR!

Favorite Type of Match:

This would definitely have to be a mixed tag or anything intergender.

Favorite Moves/Holds:

I don't have a name for it, but it's a Mexican submission where I twist-up my opponent like a pretzel.

Finisher:

I don't have a set finisher, but I have finished many matches with a Tornado DDT.

Biggest Allies:

Angel Williams; 21st century Fox; Miss Danyah.

Most-Hated Enemies:

#1: SHANTELLE TAYLOR!

Career Highlight:

Six-man tag with Tyson Dux and Crazy Steve against El Tornado, Jake O'Reily and Kobra Kai (one of my most fun and most memorable matches); Being featured in Slam Bam's Wrestling Injuries; Other than that, I'm still waiting for my time to shine.

Favorite Wrestlers:

Benoit; Triple H; Rey Mysterio; Shawn Michaels; Kurt Angle.

Wrestling Ambition:

I don't settle for second best...WWE Women's Champ!
Tiana Ringer's Personal Notes...
I have two cats: Calvin and Hobbes, both male and both very furry!.....My passion right next to wrestling is dancing. I have been dancing for over 15 years (ballet, jazz, modern, hip hop). I am a certified ballet teacher and have been teaching since 2003.....I love taking martial arts classes. In the past, I have taken Muay Thai kickboxing and I am currently studying Jeet Kune Do.....I have three brothers and we are all pretty close.....I am in my third year of university and I am working towards obtaining a BSc in Kinesiology. I am a fitness instructor and a personal trainer as well.....I wrestled in high school, winning four gold medals and I played girl's varsity rugby for two years. (FUN!).....My hobbies include: dancing, snowboarding, working out and rollerblading.....I love chocolate and anything sweet!.....Favorite sports to play and watch on TV: Hockey and football.
Essential Tiana Ringer Links...